Fall Plays Depict Fantasy and Tragedy
Epic sword-fights and horrific tragedy; fantasy and earth-shattering reality. The two fall plays at California Lutheran University each strike very different tones, but both are sure to leave an impact on audiences.  "She Kills Monsters" premieres Oct. 25 and "Columbinus" on Nov. 8.
"She Kills Monsters" is a dramatic comedy directed by senior theater major Ruth Smitherman, which deals with the mystical world of Dungeons and Dragons.
The play follows Agnes Evans as she copes with the loss of her younger sister Tilly, who died at 15 in a car crash. Agnes, who was never close to her sister when she was alive, discovers a notebook revealing a Dungeons and Dragons game that her sister had created.
By playing the game, Agnes discovers a version of her sister that she never knew existed.
"The play goes back and forth between real life and the game," Smitherman said. "In the game, we get to see the Dungeons and Dragons versions of characters and their roles are what they would ideally be like or what they imagine themselves as."
In the game, the characters come to life in the eyes of Agnes revealing who her friends were, including the girl that her sister had a crush on, as well as her enemies.
Junior Hailey Shaffner plays a cheerleader who is a bully in real life and a monster in the Dungeons and Dragons game. She said that she enjoys playing a character with two different personalities.
"In the game, we get to be really mean, and in real life we act fake, so you get to see the true realness of the cheerleaders versus what they make people think they're like in real life," Shaffner said.
Smitherman has been enjoying the directing experience and said she would love to see more female directors.
"It's a huge learning curve but I really enjoy that I get this opportunity," Smitherman said. "I believe that we need more women directors and more stories of women, and that's why I love this particular play. There are some dramatic elements, but overall, it's lighthearted and you get to see women do some badass fights."
The second fall play also deals with loss but is grounded in the tragedy of the Columbine High School Massacre.
"Columbinus," directed by Brett Elliot depicts the 1999 mass shooting at Columbine High School in Littleton, Colorado. The play looks at how hostility and social pressures from high school students could have influenced the actions of the two shooters.
"The play is heavily documentary and is told largely from the voices who lived through this stuff," Elliot said. "In that respect, it's really powerful and humbling to work on and I feel a real obligation to tell the story well and truthfully."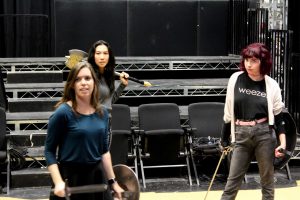 The cast found it difficult but exciting to take on the roles of the characters.
"The first day on the read through was really emotional and tough," sophomore Amber Marroquin said. "I play the character, Perfect, who seems so perfect on the outside but on the inside is really insecure."
Marroquin also believes that this play does a great job of bringing life to the subject of mass shootings.
"I feel like we have become desensitized to hearing about mass shooting," Marroquin said. "But I think if people see this play, it will open their eyes and bring awareness to how much this affects people."
See the Cal Lutheran Theatre and Dance Department website for tickets and show dates.
Scott Roberts
Reporter