Reagan's Back: Hologram President
It took three companies, more than two years, $1.5 million, one actor, a  silicon sculpted head, and plenty of special effects, but President Ronald Reagan is back from the dead.
Well, not quite. But the new hologram exhibit at the Ronald Reagan Presidential Library and Museum in Simi Valley, California is about the closest thing to it.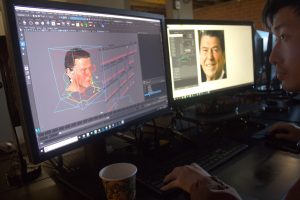 "There's something about a hologram that elicits a more intimate feeling, a more personal response…we wanted to stay as current and as vital as we possibly can here at the library," said Kirby Hanson, research and project coordinator on the hologram project for the library.
The new exhibit is the first of its kind at a presidential library, Hanson said.
Visitors to the museum enter a converted space at the start of their tour and are introduced to the hologram scene by a video. 3D Reagan then appears on a separate screen in one of three scenes: campaigning from a railroad car in Ohio, explaining the history of the Oval Office in the White House, or working on his California ranch.
Hanson said scenes were selected to create an "intimate experience" and show the many sides of Reagan.
The project was over two years in the making and faced a series of obstacles, said Dan Lux, founder and executive producer of D Lux Productions, which created the hologram with Hologram USA and Digital Frontier FX.
Lux said that while creating a hologram of someone still alive is a relatively simple trick of projecting video footage onto an angled piece of glass, creating a hologram of someone dead, and especially someone so famous, posed a challenge.
An actor resembling Reagan was hired and fitted with prosthetics to appear more like the 40th president. However, unsatisfied with the results, Lux decided to call Chad Finnerty, owner and creative director of Digital Frontier FX, to see if computer graphics would work.
"Dan [Lux] called me and he said 'Look, we're probably going to lose this job because of this prosthetic,' and I said, well, let me see what I can do this weekend," Finnerty said.
Before computer-generated imagery  could be applied, a silicon model of Reagan's head was needed to create a 3D effect. Lux said the head took three months to create and was then filmed using photogrammetry technology to capture it from all angles. Finnerty's team then sculpted "in digital clay" followed by digital airbrushing to complete the likeness.
"They'll plant every single one of the digital hairs in the president's head," Finnerty said. "So it's a very time-consuming process."
An additional challenge was the small space the hologram is projected in. Finnerty said visitors sit within 12 feet of the stage, which meant there was "no hiding anything."
"In the past we've worked on you know, rock stars. They're on stage with a bunch of fans in the audience…there's smoke and mirrors everywhere, you know there's a lot of movement…this was definitely not that," Finnerty said.
Once complete, the 3D sculpture was animated and matched to the audio and mouth movements in the selected scenes, Lux said. Finally, Hologram USA provided the installation in the museum. The exhibit opened to the public Oct. 10. Carol Beach, who viewed the hologram as part of her museum tour said she thought it was "pretty realistic."
"It gave you an idea of his personality and his convictions… I think it showed he was a humble man," Beach said.
The Ronald Reagan Presidential Library and Museum is open daily from 10 a.m. to 5 p.m. Tickets are $29 for adults.
Ellie Long
Reporter