Playoff chances sacked by Panthers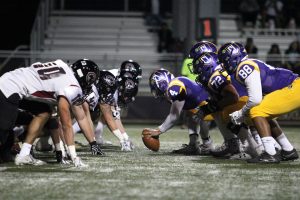 Looking to deliver its second consecutive comeback victory in front of a jam-packed homecoming crowd at William Rolland Stadium, the California Lutheran University football team's playoff chances were sacked with a 33-29 loss to the Chapman Panthers on Saturday, Oct. 20.
Late in the fourth quarter, the Kingsmen offense had an opportunity at the 9-yard line to extend its three-point lead over the visiting Panthers with a knockout blow.
But with its back up against the ropes inside the team's own red zone, it was Chapman's defense that delivered the real "knockout" of the game as junior Cesar Delgado forced a fumble snatched out of the air by senior Ricky Medeiros with 4:48 left to play.
"As a defense, we needed to capitalize. And we did," Panthers senior defensive end Dakota Palmer said.
The Panthers followed it up with a momentum-shifting 95-yard touchdown pass from senior quarterback Ian Fieber to senior wide receiver Dominic Vaccher, who needed just seven catches to tally 307 yards receiving, the second most yards earned in a game by one player in Chapman history.
Cal Lutheran's late fourth-quarter comeback attempt was thwarted on a crucial third-and-10 as Kingsmen senior quarterback Eli Peters was met in the pocket by Palmer and junior defensive end Jonathan Bunnell for Chapman's fourth sack of the game.
More pressure from the Panthers on fourth down forced Peters to rush his last-ditch effort to complete a pass that could advance Cal Lutheran's chances at the end.
"They did a really good job with what they were doing, moving fast and filling their gaps hard," said Noah Sutherland, Cal Lutheran's offensive line coach. "But our guys all played really great up front and I'm proud of them because everybody has played a million different positions all over the line."
Chapman got on top of Cal Lutheran early in the first half  because of great defensive execution on third down. The Kingsmen were just 4-of-16 on third down opportunities on Saturday night.
On third-and-seven from their own 29-yard line, Cal Lutheran gave away what could have been a costly turnover when Bunnel forced a fumble while sacking Eli Peters.
But Cal Lutheran's defense held strong inside the red zone, forcing one of its three critical turnovers on downs to prevent Chapman from adding to its early 19-0 lead.
"Our backers played good and locked down the run," said sophomore defensive back Christian Sanchez. "We played throughout the whole game and didn't give up. I'm really proud of everyone."
Kingsmen linebackers senior Tyler Lozano and junior Ethan Pulley led the way with 10 tackles each. Senior defensive back Mason Evans finished with nine tackles and recorded Cal Lutheran's only takeaway of the game with a first-quarter interception.
The Kingsmen offense capitalized on the defensive stops, ending its scoring drought when junior tight end Rexford Demazeliere caught a pass from Peters and made some defenders miss en route to a 29-yard touchdown.
Peters, who finished with collegiate-career highs in passing yards and attempts in the loss, finished 22-of-33, adding his second passing touchdown of the day with a 66-yarder to sophomore wide receiver Ty Riley. The senior captain also showed off his dual-threat ability, dashing down the Kingsmen sideline with a 50-yard rushing score that narrowed Chapman's lead to five with 9:57 remaining in the third quarter.
"That quarterback [Peters] man, he was something else," Palmer said. "He's shifty, very very versatile and we had a hard time containing the guy because once he got out, he was a lethal weapon."
But after surrendering 22 consecutive points, Chapman reversed its fortunes with a 30-yard touchdown pass from Fieber to Vaccher to retake the lead late in the third quarter at 26-22.
The back-and-forth affair between the two teams continued two drives later as senior running back Chris Anderson followed a big pickup on the ground of 28 yards with a 53-yard rushing touchdown, giving Cal Lutheran its last lead of the game at 29-26 with 12:01 remaining.
"Defensively, we played hard for a while. But then it would be one big play that would give them momentum," Sanchez said.
With the loss, the Kingsmen dropped to 3-4 on the season and moved into a tie for fourth with a 2-2 record in Southern California Intercollegiate Athletic Conference games this season. After two consecutive home games, they are back on the road this Saturday, Oct. 27 at University of Redlands in a battle for the Smudge Pot trophy.
Jake Gould
Reporter