Remembering Mr. Swenson
A conversation with James "Jim" Swenson was never short. You would need to set aside at least 20 minutes to talk because, even on first meeting, you were automatically considered part of his 'family.'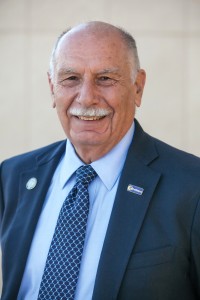 "There weren't people he did not know—just people he hadn't become friends with yet," Director of University Stewardship Lana Clark said.
Swenson passed away Oct. 5 from pancreatic cancer. He was 81.
Swenson served on the Board of Regents at California Lutheran University for 18 years and was one of the university's most generous donors. He donated nearly $4 million in scholarships to 120 "Swenson Scholars" since 1998, according to the university website. He only took one year off of his time as a Regent since first joining the board in 1999.
The Wisconsin native's lifelong philanthropic career started after a mentor loaned him $900 to complete his studies at the University of Minnesota, Duluth. Swenson was able to pay the loan back eventually and wanted to help pay it forward to students in similar situations.
After being directed to Cal Lutheran by the pastor of his church, Swenson established the Swenson Family Foundation with his wife, Sue, once he retired in 1996 from his circuit board company, Details Inc.
Clark said she grew closer to the Swenson family after attending Cal Lutheran from 2002-2006 as a Swenson Scholar. The last time the Swensons visited campus was in May 2018. It will forever be a time that Clark will cherish, she said, as he was able to meet her son before passing away.
Sophomore Swenson Scholar Hannah Nandor said she vividly remembers Swenson being genuinely excited to meet the students that benefitted from his scholarship, and that he considered them "part of his family."
"[He was] genuinely invested in my life and in my future," Nandor said.
After hearing her career aspirations, Nandor said Swenson told her, "Go change the world, kid."
Not only did Swenson help change the lives of Cal Lutheran students through scholarships and other donations; he made an impact at his alma mater, as well.
Clark said Swenson "truly took joy in being able to help students" and that "you could see it in his eyes and his bright smile just how happy he was being able to help."
The former research chemist gave nearly $12 million to new building initiatives on campus, including the Swenson Center for the Social and Behavioral Sciences. Additionally, the Board of Regents decided to name the new science building under construction the "Swenson Science Center," according to the university website.
Swenson's passion for the behavioral and hard sciences helped encourage students to engage in hands-on academic learning.
"[Swenson] was one of the key people that embodies CLU and the mission. He is going to continue to impact [people] and his presence will live on for a long time," Nandor said. "The impact he had on this campus will continue on in students, especially those that knew him. We have a responsibility to pass on his legacy."
University President Chris Kimball said Swenson's dedication to the university and education was unique.
"The attention to detail [Swenson had] was just so precise, it was unbelievable," Kimball said.
Swenson's memorial service was held at Gloria Dei Lutheran Church in Dana Point on Oct. 22.
"Whomever fills his spot on the Board of Regents will be good people, but there will never be another Jim Swenson," Kimball said.
Vianca Castaneda-Correa
Reporter