"Killer Shark," Our Biggest Fan
"When you see Killer Shark, you always say hello. You always have to match his energy. He was always up–he never had a down day," former Kingsmen receiver Eric Rogers said.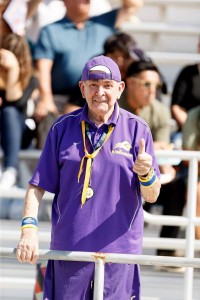 Longtime Kingsmen football supporter Ronald "Killer Shark" Sharkey passed away the weekend of Sept. 30 of heart complications. He was 83.
Sharkey was born in Clairton, Pennsylvania in 1938. The retired banker lived in Los Angeles for the past 30 years after coming out to California for a vacation and deciding he never wanted to leave, Kingsmen Offensive Coordinator and Assistant Coach Anthony Lugo said.
After retiring from the banking industry at age 50, he spent his life supporting local football teams like the California Lutheran University Kingsmen.
His passion for Division III football came from playing football at Ohio's Marietta College alongside his brother and best friend, Rudy Sharkey, a former coaching legend at University of Mount Union in Alliance, Ohio.
One of Lugo's first memories while working at Cal Lutheran involved Sharkey.
"My first day here was my first day meeting Shark," Lugo said. "We had our offices [in Mt. Clef Hall], and Sharkey was such a regular. He had his own office and was in charge of decorating all of our offices, and he would bring little snacks and things from the dollar store."
The two became close friends in Lugo's early years at Cal Lutheran  and the photo collages on Lugo's office shelves today were created by Sharkey.
Rogers, former receiver who now plays for the Calgary Stampeders, has also collected the crafts Sharkey made over the years, calling him an "artsy guy" who put effort into the gifts he gave others.
"He would talk to all the players too, not just the guys who would play all the time," Rogers said. "He built a relationship with everybody—it wasn't just favoritism or the best players. He would treat everybody the same and be nice to anybody and everybody."
Rogers said that Sharkey was "like an uncle or grandfather" to the team.
"He's just there helping out," Rogers said. "He always had candy and snacks and stuff like that. He was definitely a giver."
Kingsmen Football Head Coach Ben McEnroe was close friends with Sharkey since 2007. McEnroe said Sharkey would attend staff Christmas parties at his house and spent time socializing with players and coaching staff, getting to know them on a personal level.
"He would give the shirt off his back to people in need. He loved people," McEnroe said.
One of McEnroe's favorite memories comes from 2008 during a practice when Sharkey was showing off his "killer dance moves" to Jimmy Buffett's song "Margaritaville."
"A lot of guys still talk about that dance to this day," McEnroe said. "I think it's burned into our memories."
When Rogers came to Cal Lutheran as a freshman in 2009, he said the two would talk almost daily, either during or after practices and games.
Rogers said Sharkey gave him the nickname "Smuckers," because Sharkey said Rogers was "simply the best like the peanut butter and jelly brand."
In Rogers's senior year, Lugo remembers seeing Sharkey on the sideline cheering Rogers on at games.
"[Sharkey] would run to the end zone when he thought we were gonna score and he always had super long arms," Lugo said, mimicking Sharkey's outstretched victory pose. "Seeing Eric [Rogers] score just made him so happy. I have a vivid picture of Eric [Rogers] scoring and running to Shark and giving him a hug."
After graduation, Sharkey kept in touch with Rogers through monthly phone calls and would keep up with his career while playing for the Dallas Cowboys. Sharkey, Rogers and Lugo would meet up for dinner when Rogers was in the area and Rogers said he is glad they never fell out of contact after graduation.
Lugo said Sharkey will be remembered for the energy he brought to the team and Cal Lutheran will not be the same without him.
"I think it'd be weird for me to be there and Sharkey not be around," Rogers said. "He'll definitely be remembered as the biggest fan, nicest guy, honest guy. He just cared a lot. He was always present, always around."
Lauren Graf
Reporter