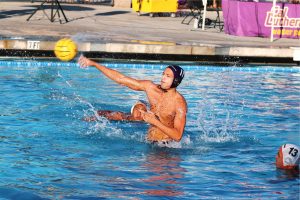 The La Verne Leopards were no match for the California Lutheran University men's water polo team, losing 13-11 in the face-off at the Samuelson Aquatic Center on Wednesday, Oct. 24.
Capitalizing off their six-on-five offensive advantages was the name of the game for the Kingsmen, who tallied a total of 13 drawn ejections on the afternoon, scoring on seven of those plays.
First-year attacker Ben Brown scored the first goal of the game, getting one past the goalkeeper just 20 seconds into the first period. 
The Kingsmen continued their dominating presence, adding another two goals before the end of the period while La Verne trailed behind with one. Cal Lutheran scored another three goals before halftime, putting the Kingsmen ahead 6-4.
"I thought we did a really good job of drawing those ejections and getting on those power plays, and obviously we did a good job capitalizing when we had those opportunities," said junior attacker George Lundgren, on the team's offensive strategy. Lundgren was the leading scorer of the afternoon, putting up four goals for the Kingsmen.
In the second half, the Leopards began to claw their way back into the game, using Kingsmen turnovers to their advantage to tally six goals of their own. Cal Lutheran then got their momentum back to tie the game back up 10-10 before the end of the third quarter.
Using drawn ejections, the Kingsmen offense worked its magic yet again, with senior utility player Matt Fong sending a ball soaring into the back of the net from the top of the key.
Fong attributed the team's success against the Leopards to their "man up opportunities that we were converting."
"We were seven of 13 and that's definitely a mark that we want be consistent with," Fong said.
As time wound down, La Verne tried to pull out a victory, but Cal Lutheran came out victorious. The Kingsmen scored another three goals, putting the final score at 13-11.
Looking ahead, the Kingsmen will go up against some tough competition at Claremont-Mudd-Scripps.
"We've got CMS and Pomona as our next two and they're ranked one and two in SCIAC, so I think winning this game will give us a lot of momentum to beat CMS on Saturday and then go play Pomona again on Wednesday," Lundgren said.
Alexa Barnes
Reporter