Celebrating Navratri with Club India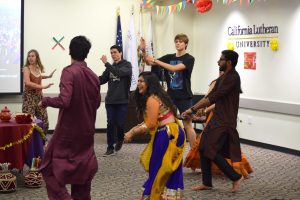 Students danced the night away to the traditional garba and dandiya dances at Navratri Celebration hosted by Club India Oct. 26 in Ullman 101.
Vice president of Club India Chintan Bhatt said "Navratri" is Sanskrit for "nine nights." The 10-day celebration commemorates the battle of Hindu goddess Durga against the buffalo demon Mahishasura, until Durga "killed him and restored order to the world."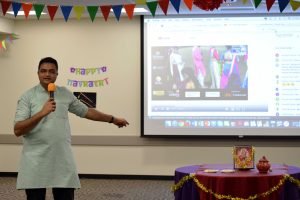 Observers of dance across India commemorate this battle each year.
"Every culture [in India] celebrates it in one or the other way, just that couple of practices here and there are changed, but the baseline theme is the same," Bhatt said. "Every region in India has their own unique style of dancing."
Garba is a traditional group dance, with "concentric circles going clockwise and counterclockwise," Bhatt said. The world record for the largest dance is 40,000 people.
The nights of the festival celebrate different goddesses, and Bhatt said the unique qualities of each goddess are hidden within every woman. Figures range from a motherly nurturer to a woman who "kills demons and drinks their blood."
"This is something that is really woman-centric and this is India's way of celebrating the feminine side of it," Bhatt said.
The vivid decorations symbolized the goddesses' colors and a table with Durga's image sat in the room's center. Club India members wore traditional garb and the event included food like samosas and jalebi.
"At CLU, Club India is known for one and one thing only: that's our food," Bhatt said.
First-year Whitaker Proll-Clark said he was originally interested in attending the event because of his time in India during his gap year. He tried his hand at dancing in the garba circle as well as the dandiya, which includes hitting sticks and rhythm.
Proll-Clark said he would recommend attending multicultural events on campus to other students.
"It's so much fun to have because we live here and see the same things every day, and it's so nice to have something that's different and colorful," Proll-Clark said.
California Lutheran University last held Navratri 10 years ago. This festival is part of an initiative to bring more multicultural events to campus.
"When we celebrate something like this, which is unique, [students] get to know as to why we are celebrating it, what is the reason behind the celebration, and how do we celebrate it," Bhatt said.
Lauren Graf
Reporter