New Pastor Finds 'Seat at the Table'
October 30, 2018|51 Views
For many, Dia de los Muertos, or the Day of the Dead, is a very special holiday celebrated in the Latin community to honor and remember lost loved ones. For Campus Minister Hazel Salazar-Davidson, this years' celebration will not only consist of remembrance, but also of new life.
Salazar-Davidson, who joined California Lutheran University as a Campus Minister in August of 2018 will be ordained on Nov. 2, the final day of the Day of the Dead. Ordination is a ceremony to initiate leaders in the Lutheran church.
A native of Pasadena, California, Salazar-Davidson was not involved in the church and had no religious affiliation growing up. It wasn't until she was 22-years-old at a Christian camp in Big Bear that she came to find the church through the act of communion.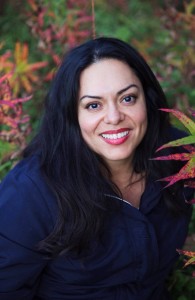 "I remember the pastor talking about the act of communion being an act of community,"  Salazar-Davidson said. "I thought that was an amazing idea for life to work with each other to strive for peace, and it all started at the table. That's when I realized that I should become a Christian."     
From there, Salazar-Davidson began traveling around the world doing missionary work but never considered being a pastor.
She met her husband, an Alaskan fisherman, in Southern California, where they lived until she was 33. After moving to her husband's home state of Alaska, Salazar-Davidson continued to come back regularly to attend intensive seminar classes, simply because she found them "fun."
"I began to consider becoming a candidate for ordination but hesitated because I didn't see a lot of people who looked like me in the Lutheran church," Salazar-Davidson said. "Then, I went to a mission developer training where I met people who were like me and knew this was a community I wanted to be a part of."                    
But in April 2015, one Sunday after being commissioned to be a mission developer, Salazar-Davidson lost her husband in a car accident, leaving her and their three children behind.
"At that point, I thought that I was not called to be a pastor," an emotional Salazar-Davidson said. "I thought it was wrong, so I told the church that I don't think I could be a pastor anymore and they told me, 'No, you're our pastor and we love you and want to help you.'"
With some encouragement, the church got Salazar-Davidson to help organize a Day of the Dead event to help others, and herself heal and remember her husband. The end of the event included communion, where once again she realized something very special.
"I recognized again, in that special moment that we are all at the table," Salazar-Davidson said. "Even though we can't see those that have passed, we are with each other anyway and that's the way that God is constantly blessing us."
Now, three years later, Salazar-Davidson looks to start a new chapter on a very special day.
"When I asked my 8-year-old son what day I should be ordained on," Salazar-Davidson said with a tear in her eye, "he said he wanted me to be ordained on Day of the Dead, because that's when dad would be here."
Without hesitation, University Pastor Scott Maxwell-Doherty said yes.
"I was thrilled when she made the immediate request to have her ordination here," Maxwell-Doherty said. "And to choose a critical intersection in her faith life to be ordained on a day of remembrance of her husband and have it be a part of her ordination, it's a rich fabric of how she understands ministry."
Only in her third month at Cal Lutheran, Salazar-Davidson is already deeply involved and making an impact.
"She brings a different kind of energy and is full of ideas," said Campus Ministry Administrative Assistant Elizabeth Lohr-Myers. "All of her tough experiences have contributed to making her very open and gives her a lot of empathy which is huge in a college community."
Salazar-Davidson is organizing the Dia de los Muertos celebration to bring the tradition to the Cal Lutheran community. 
"Hazel provides us access into a different endeavor of the university in ways that we have not yet begun to imagine," Maxwell-Doherty said. "That's an awesome access to have."
In just nine weeks on campus, Salazar-Davidson has already been accepted by that "community" that she had yearned for so deeply.
"Just watching her move around campus, people across the way are already calling out to her by name and waving," Maxwell-Doherty said. "It just shows that she's already been adopted and she's one of us."
Salazar-Davidson's ordination is scheduled for Friday, Nov. 2, at 5 p.m. in Samuelson Chapel and live-streamed on the Cal Lutheran website at callutheran.edu/live    
"I'm excited because the ordination isn't just about me, it's for the whole community," Salazar-Davidson said. "Then we get to be all together, here on the campus, as one community."
Scott Roberts
Reporter