Drumming for His Life on the Road
On the way to Malibu off the side of Kanan Road sits a man and his drums. He doesn't play for fame or recognition,—that's not important to him. He has overcome too many demons to care about such frivolous things.
Robert Gwartney has been beating on his donated drum set alongside the road every weekend for four years. With his flowing blond hair and pronounced arms, it is hard to believe the agile drummer is 56 years old.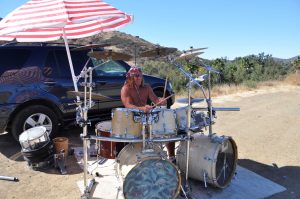 Gwartney is now a Thousand Oaks resident but grew up in the Bay Area in California. He moved all over when he was younger, hitchhiking wherever he could get to.
Gwartney is a recovering alcoholic who has been sober for eight years.
"I look better now than I did 15 years ago, it's crazy," Gwartney said.
For Gwartney, things got really bad before they  started looking up.
"It was truly a miracle. I should have been dead. I didn't think I was going to make it until 25—it was a different age back then," Gwartney said.
Not only did Gwartney get sober—he survived being homeless for 16 years of his life.
Gwartney's recovery was so successful, he said, because he was reintroduced to God in Alcoholics Anonymous meetings, which were held at the New Hope Lutheran Church in Agoura Hills.
At one of these meetings he was introduced to Terry Paulson, who Gwartney calls his "godfather."
Paulson and his wife serve as a sponsor to Gwartney and befriended him in 2012. Gwartney has been a member of NHLC since then.
"He's such a character; I love spending time talking with him. You know, I just try and be a good friend, " Paulson said.
Paulson visited Gwartney at his camp when he was homeless. It was located off Las Virgenes hills near a creek. He said it was in a nice secluded area, which made it easy to find Gwartney.
The police told Gwartney that it was not legal for him to be living there. Gwartney packed up his things and made his way to the NHLC.
Paulson said he went into the parking lot of NHLC in the far back corner and found a nice place for his tent. He ended up living behind the church for three years. "Finding housing in this area is so difficult," Paulson said.
Paulson had a friend, Rick Schroeder, president of Many Mansions, located in Thousand Oaks. He was able to get Gwartney on the list.
Schroeder said that Many Mansions is an organization that develops and provides housing. They either buy apartment buildings or they build them.
"These buildings are rented for people who really are in that special category that prevents them from affording housing," Schroeder said.
Not only did MM provide Gwartney with housing—it provided him with case managers on sight. They do workshops with the residents focused on addiction recovery and they assist with budgeting their finances. This basically gives people everything they need to live.
After finding support through stable housing and his church, Gwartney said his only regret he not getting sober earlier.
He has served as a meeting-leader for his Alcoholics Anonymous group.
The friendly, long-haired drummer just wants to fit in with the community, like everyone else.
"Hey, now that you feel like you know him, you should go stop by," Paulson said.
If you or someone you know is struggling with alcoholism, contact  the National Council on Alcoholism and Drug Dependence at 1 (800) NCA-CALL (622-2255).
Rose Riehl
Reporter