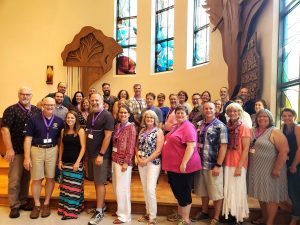 California Lutheran University in Thousand Oaks and Pacific Lutheran Theological Seminary in Berkeley received a grant from Lilly Endowment Inc. for nearly $1 million to aid in pastoral support.
The five-year grant is called the "Thriving in Ministry Initiative 2018" and totals $996,756 in funds.
"The purpose of the grant is to provide resources and spaces and opportunities for pastors and church leaders of the west coast in the ELCA [Evangelical Lutheran Churches in America] to come together in community and have different opportunities for them to not feel burnt out, isolated and overwhelmed in ministry and life,"  Communications Director at Lilly Endowment Inc. Judith Cebula said.
PLTS Rector Ray Pickett said the grant took about a month to work on in collaboration with Desta Goehner, the director of Congregational Relations.
"Everyone that I knew was applying for the grant," Pickett said. "I think one of the reasons we got it was because it was collaborative— it was the university and the seminary working with 11 synods to do something together."
Out of 600 applicants, Cal Lutheran was one of 78 institutions picked to receive funding. The grant varied in the amount given to each institution and Cal Lutheran received one of the highest sums.
Kelly Owens, director of Sponsored Research and Projects, helped Pickett and Goehner with editing the details of the award to tailor the needs of the grant to the institutions.
"It was intense, but a gift to learn that process," Goehner said.
Goehner said she gives a lot of credit to Owens for Cal Lutheran receiving the grant and that Owens has been critical to Cal Lutheran receiving other funding as well.
The grant is intended to help pastoral support teams build a curriculum to strengthen practical leadership in ministry. Once the grant funding runs out in five years, pastoral teams will have the platforms necessary to engage their congregations in new ways.
Cal Lutheran's pastoral team was invited to apply for the grant and waited about five months before learning that they received the grant. Goehner said it is the first time a grant of this amount from Lilly Endowment Inc. has been awarded to the university.
Lilly Endowment Inc. strives to enhance the religious life of Christians "through enhancing the vitality of the congregation," according to the organization website.
Pickett said he asked the synods, an ecclesiastical advisory council of church clergy, what is needed for leaders to progress. He said one of the bishops suggested having them all meet and discuss the idea.
With the grant, the pastoral teams at the university and the seminary are going to create different modules that help pastors become better leaders and have better support systems, Pickett said.
Faculty may get a small stipend for conducting a module and will be encouraged to collaborate with other faculty and staff during the process, Pickett said.
Pickett said he hopes the funds will also "help pastors develop social entrepreneurship, interpersonal competence, conflict management and community organizing." These skills are not always taught during seminaries, Pickett said, but are still vital to know in order to be a leader.
Pickett said the state of the church is changing, and with that change, pastors must also change and continue to develop. Mentorship with other members will also play a key role in this process, he said.
According to the university website, grants ranging from $31,500 to $1 million will help pastors build relationships with experienced clergy to guide them through key leadership challenges in ministering to congregations.
"We need to support leaders to create healthy leaders who can engage outside of their components," Pickett said.
Vianca Castaneda-Correa