How To 'Eat Less Water,' Cook Sustainably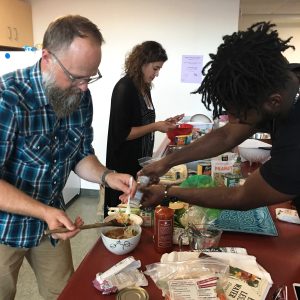 "Collectively, there is power that we can change the story of water on this planet," water activist and author Florencia Ramirez said.
Students cooked and tasted foods such as artichoke ceviche and tuna quesadillas at Ramirez's sustainable cooking demonstration at California Lutheran University on Oct. 25.
The event "Eat Less Water," named after her book and blog, framed the global water crisis through sustainable food choices people can make with every meal.
"When you go to the farmers' market and you're purchasing from a farmer who's really at the forefront to change the ways food's grown to be more sustainable and nutritious, that is change that you're contributing, causative change," Ramirez said.
The demonstration was held in the communal kitchen in Grace Hall. Students had the chance to prepare healthier alternatives to meals like instant ramen. Ramirez brought fair-trade peanut butter chocolate bites for dessert and all of the night's recipes came from her blog.
Between students chopping vegetables and mixing sauces, Ramirez shared the small diet changes that make a large impact on the environment. For example, instant ramen is made without MSG, but is available for $1. Ramirez said MSG factories in China are great contributors to pollution because the tar-like waste they dump into rivers poisons local water.
She also explained the water footprint of certain foods.
"Everything has a water footprint, even if we don't see it," Ramirez said. "You and I have a water footprint of about 150 gallons a day, to brush our teeth and wash dishes and all of that. But in the United States, we eat anywhere from 500 to 1,300 gallons of water."
Ramirez said one egg requires 23 gallons of water to be produced and a stick of butter requires nearly 3,600 gallons.
The demonstration was sponsored by the Sarah W. Heath Center for Equality and Justice and the SEEd Garden. Former SEEd Garden director Samuel Thomas suggested Ramirez come to campus while talking with Cynthia Duarte, director of the CEJ.
The event began as a way to improve Cal Lutheran's Community Cupboard with the possibility of fresh and refrigerated options for students facing food insecurity.
The Community Cupboard is located in the Samuelson Chapel and provides non-perishable food items, grocery store gift cards and Ullman Commons gift cards to students who may need them, according to the university website.
However, students voiced concern over not knowing how to prepare the food. This brought the idea of doing simple cooking demonstrations with minimal ingredients.
"Maybe students who are a little afraid to start cooking might start because one of the things that's really popular at the Community Cupboard is—and I ate this too—but Cup of Noodles, Poptarts, all this stuff," Duarte said. "And so hopefully taking ownership of how we eat, maybe this will inspire them, give them a couple of tricks, give them a couple of recipes that they can do."
Ramirez said she began hosting cooking demonstrations because she did not want to do a traditional book tour after releasing "Eat Less Water" last year.
She coordinated farm-to-table cooking demonstrations at homes and gatherings. People would invite friends, buy ingredients, pick out recipes from her book and Ramirez would demonstrate how to prepare these recipes.
She said one of her first demonstrations was in New York, where she and her group prepared tamales and margaritas.
When Duarte heard about Ramirez's work through Thomas and Vice President of Enrollment Management and Marketing Matthew Ward, Duarte said she thought it was a perfect fit for her vision.
In her demonstration, Ramirez took time to talk about the Community Cupboard and healthier meals that can be made from the food available, such as bean tostadas. After the demonstration in Grace Hall, Ramirez held a book signing and discussion at Ullman 101, which was open to the Thousand Oaks community. There, she read from her book and explained her life's mission to share information about water conservation through cooking.
Olivia Huffman, student program coordinator for the CEJ, said the intimate setting of the kitchen allowed for closer connection to students to understand Ramirez's message.
"I hope [students] take into consideration every time they buy food or they see food and they start thinking about not just the physical presence of food but where it came from. It has a story, and it has a story that doesn't just impact you," Huffman said.
Lauren Graf
Reporter