Campus Unites in Wake of Pittsburgh, Louisville Shootings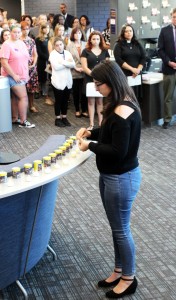 "Until the culture's willing to change…it's going to have to be all of us to kind of stand up and say enough,"  California Lutheran University President Chris Kimball said.
The community of Cal Lutheran gathered Monday, Oct. 29 for a memorial service to remember the lives lost over the weekend in acts of anti-semitism and racism.
On Oct. 27, gunman Robert Bowers opened fire in Tree of Life synagogue in Pittsburgh, Pennsylvania. What has been called a hate-filled attack left 11 dead and six injured.
In Louisville, Kentucky on Oct. 24, two people died after being shot by gunman Gregory Alan Bush. They were shot for being African-American.
Both attacks are being classified as hate crimes, with the Pittsburgh shooting considered to be the deadliest attack on the Jewish community in U.S. history, according to the Anti-Defamation League and reported by CNN.
The memorial service was quickly organized by Rabbi Belle Michael and the Hillel Club after Saturday's events. 
"People need an outlet to talk about what's in their hearts, or just to be with other people and share that together," Michael said.    
The memorial began with the singing of the national anthem by first-year Lola Chen. Then the names of those lost from the Tree of Life synagogue and Louisville were read aloud by Hillel Club president Jason Krastein. Each member of Hillel club lit one candle for every victim of the Oct. 24 and Oct. 27 shootings.
Irving Younger, Melvin Wax, Rose Mallinger, Bernice Simon, Sylvan Simon, Jerry Rabinowitz, Joyce Fienberg, Richard Gottfried, Daniel Stein, Cecil Rosenthal and David Rosenthal were killed in the Pittsburgh synagogue shooting. Maurice E. Stallard and Vickie Lee Jones were killed in the Louisville Kroger. 
Faculty such as Vice President for the Office of University Advancement Regina Biddings-Muro, Director of Housing Operations Nate Fall, Vice President of Student Affairs and Dean of Students Melinda Roper, Pastor Scott Maxwell-Doherty, Kimball and others attended to show their support. 
"I hope this does strengthen the Jewish community and communities around that…other minority groups can bolster together and we have the strength and support to really stand up for what's right in the world," Krastein said.
More than 120 Cal Lutheran community members gathered together in the Student Union for the memorial, holding hands in collective silence as the Hebrew prayer for healing, "Mi Shebeirach," played.
"I want to say to the non-Jewish community: we need you. We need you to be together with us. To support us," Michael said. "I think it's true for the black community as well. They need us to be with them. When you're insular within your own community, you're not that powerful. What's powerful is community coming together."
Nicki Schedler
Features Editor
and
Olivia Schouten
News Editor