'A coach's dream:' Maci Haddad excels in her first year of Regals volleyball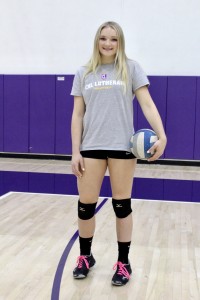 While her success as a newcomer has her sitting high in rank, first-year volleyball player Maci Haddad is admired by her teammates and coaches for her humble nature, the way she puts others first and her hard-working mentality. While Haddad is helping lead the Regals to success on the court, she is also making an impact on her teammates.
As a middle blocker, Haddad has logged 25 starts overall for the Regals and has so far racked up a total of 258 kills, 37 digs and a total of 109 blocks. Haddad is also leading the Southern California Intercollegiate Athletic Conference (SCIAC) in hitting percentage at .355 and blocks per set at 1.07. According to NCAA statistics, Haddad is sitting in 15th place in the nation for total blocks. She also earned all-SCIAC First Team honors in October.
Haddad's love for volleyball began when she started playing club volleyball in 8th grade. She played elementary and middle school volleyball along with softball and basketball, but once she got a taste for competitive ball, the game changed.
According to her high school coach, Maria Collatz, Haddad was "a coach's dream." But besides her talent on the court, she describes Haddad as a very loving and selfless person.
"She plays for the person next to her. She makes people around her better," Collatz said.
As a four-year varsity player at Stockdale High School in Bakersfield, California, Haddad earned first team all-Southwest Yosemite League in 2015 and 2016 as well as first team all-area 2016 and 2017. Haddad was also team captain her senior year. Collatz said Haddad has a unique ability to bring out the best in others in a way that betters the whole team.
Haddad values the relationships that playing volleyball has allowed her to create. She credits the welcoming atmosphere of the Regals volleyball team as one of her main reasons for choosing to attend Cal Lutheran. She said she calls her teammates her "sisters" and knows they will always be in her life. Haddad leans on them for support off the court and said they have helped make her transition into college smooth.
"I just know I can go to them if I have any questions or if I need help with anything and they'll always help me," Haddad said.
First-year libero Julia Trento, teammate and friend of Haddad, said she admires how humble Haddad is and the way she is always there for her friends.
"She never will talk about herself; everything is always about the team and the team succeeding," Trento said.
Haddad is known to keep a straight face, no matter the scenario. Senior setter Steph Rolfson said Haddad is naturally quiet, but once you get to know her, she "brings her own unique personality to the team" in the form of the random, funny things she says. Rolfson also said that Haddad embodies the type of player that the upperclassmen hope to welcome onto the team.
"I think one of the main things she's done the best is just puts her head down and works really hard when she needs to, and that's the kind of kid we love in our program," Rolfson said.
Although her statistics and accomplishments speak to her talent, Cal Lutheran Head Coach Kellee Roesel says that Haddad is much more than a volleyball player. Roesel said Haddad is "empathetic and a great listener" who can connect with her teammates and coaches on all levels.
"She is who she is, she's not trying to be anybody else…super genuine," Roesel said. "I just love her."
Haddad said she prefers to not worry too much about anything else except what is expected of her for the game at hand. She said she takes into consideration where the game is at and which points, kills or blocks she can make.
"I am pretty confident in the way I can play, but also I feel the pressure a lot, but I try to just ignore it," Haddad said. 
Haddad says her main goal for her time as a Regal is to experience a national championship with her team. After college, the exercise science major said she hopes to return to her hometown of Bakersfield to teach physical education and coach volleyball. Haddad said her unique relationship with Collatz inspired her to want to make an impact on kids as well.
For now, Haddad said she is taking her first year in stride and hoping to enjoy her time at Cal Lutheran, playing the sport she loves with her new "sisters."
Tristan Jackson
Reporter