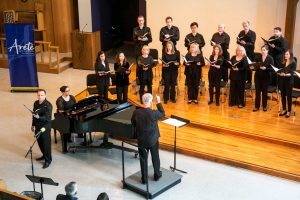 "For a lot of the members, it's just an artistic outlet that they don't necessarily all have anymore. It's a chance to perform with other musicians who are at the same level," founder and director of the Areté Vocal Ensemble and interim California Lutheran University Music department Chair Wyant Morton said.
The Areté Vocal Ensemble is a professional group of vocal artists created and conducted by Morton. The ensemble is based in Thousand Oaks, but includes vocal professionals from all over Southern California. On Nov. 11, the ensemble will be celebrating 10 seasons with a special concert.
Morton has been at Cal Lutheran for 27 years. He used his experience and expertise in music to start Areté 10 years ago.
"I just knew that there were a lot of good professional level singers that were in the area that might be interested in doing something unique," Morton said.
He said Areté is unique to all other choirs in Southern California because they try to focus on living composers.
Scott Brodie has been a member of Areté since the beginning and said his favorite part about being in the ensemble is the incredible talent  in the group.
"There's a variety of music teachers, performers, and the talent is amazing. I've seen it grow since it started and it is a really incredible group," Brodie said.
Brodie said he has been singing in local music groups and in theater for most of his life and graduated from Cal Lutheran in 1999 with a Bachelor of Arts degree in music. Brodie sang the national anthem at the 2018 commencement ceremony. 
"People come from all over, not just Ventura County—there is always new talent that continues to come through. Through the ensemble, there are really great opportunities to work with composers and sing with orchestras," Brodie said.
Morton said the ensemble hosts two concerts per year.
Kathy Josselyn has been part of the ensemble since the beginning as well. She said she heard about it because her daughter worked at Cal Lutheran. Josselyn's daughter encouraged her to join with her husband, John Josselyn.
"Areté has really grown in its capacity to do more difficult music and the level of ability has really gone up through the years. [Morton] started out with a women's ensemble and after two years he decided to concentrate on the ensemble as a whole, which I really enjoy," Josselyn said.
Josselyn said she looks forward to performing the music of California-based composers and would eventually "love to see [Areté] expand the concert season and do something at Christmastime."
Morton said the hardest part is choosing a theme. But once he chooses a theme, he enjoys doing the research and finding out what is out there and how to make it new and different.
"This concert is as big as it's ever been, with 36 singers. The ensemble will be performing a lot of new music that people are not going to know so I am excited to bring the new music to the audience," Morton said.
Areté Vocal Ensemble will host the Nov. 11 concert in the Samuelson Chapel at 2 p.m. Tickets can be purchased at the door for $20, or online in advance for $15. Cal Lutheran students can purchase tickets for $10 with student IDs.
For more information about the ensemble, visit www.aretevocalensemble.org.
Luisa Virgen
Reporter