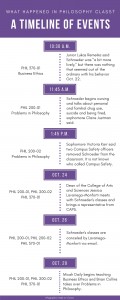 An adjunct philosophy professor was removed from his classroom by Campus Safety Oct. 22 and will not be teaching for at least the remainder of the semester, students in his classes said.
The removal is following out-of-character behavior that included cursing, discussing personal drug use and defending suicide as an option, students in his classes said.
Two Campus Safety officers removed Nicholas Schroeder from the 1 p.m. section of Problems in Philosophy Oct. 22, approximately 20 minutes before the end of the class period, said sophomore Ruby Sikes. One of the officers then dismissed students and told them not to look at Schroeder, who was still in the hall talking with the other officer, sophomore Victoria Karr said.
"That whole day, it was just very weird," Sikes said.
Jessica Lavariega-Monforti, the dean of the College of Arts and Sciences, met with the class Oct. 24 and brought a representative from Counseling and Psychological Services to discuss the event without Schroeder present, according to students in the class.
On Oct. 24, Lavariega-Monforti sent an email to Schroeder's Problems in Philosophy classes that said, "Class is canceled this Friday (Oct. 26) but will meet on Monday (Oct. 29) at the regularly scheduled time in HUM 119…We will be in touch with you to provide information about Monday's instructor as it becomes available."
The day of the incident, Schroeder taught Business Ethics at 10:30 a.m. Junior Lukas Remeika said class was "a bit more lively that day," but that nothing too unusual occurred.
"I think everyone kind of noticed he was a bit different, more open, he was walking around the class more—we were kind of digging it, to be honest, enjoying the energy for the morning," Remeika said.
It was in his 11:45 a.m. class, the first section of Problems in Philosophy, that Schroeder's behavior became "way out-of-character," sophomore Brenden Yee said.
Yee said Schroeder was normally quiet and "straight to the point." Yee said he noticed from the start that Schroeder was louder and more energetic than usual.
"He tried to start taking role, but ended up getting very off track very easily. And he started talking about his different like, personal issues—things that were concerning to him as well, and he was getting very, very passionate, very emotional about it," Yee said.
Sophomore Claire Justman was also in Schroeder's 11:45 a.m. class and said the topic of the day was free will.
Both Justman and Yee said the discussion turned to subjects including Schroeder's personal and familial drug use and the defense of suicide. Justman also said that he kept shutting down conflicting points of view.
"He just didn't want to hear it, he just kept going and going and going, like word vomit," Justman said. "He seemed very concerned for us. At one point when he was talking about suicide, he broke down crying and was like, 'God, please don't kill yourselves.'" 
Justman said Schroeder became so emotional at one point he excused himself from the room. Justman and Yee said that Schroeder repeatedly cursed, but not at students.
"It got to the point where it was extremely uncomfortable, and like, we didn't want to be rude or anything, [so] none of us really stepped out of the class," Yee said.
The behavior continued in Schroeder's 1 p.m. section of Problems in Philosophy and the topic of suicide came up again, Karr said.
"I feel like the majority of the class was concerned for him, there were a few students who were like, really upset at him," Karr said.
Schroeder told students not to tell anyone what he said, as he didn't want to get fired, Karr said. However, Karr said Schroeder then changed his mind and told the class, 'Actually, I don't care if I get fired.' 
It is not clear who initially called Campus Safety, but Karr said she was surprised when they came. The officers asked Schroeder if they could talk to him in the hall. Schroeder initially refused, but came with them "after a minute or so," Karr said.
The only time students heard from Schroeder after he was removed from class was from two posts on Blackboard. The first post said class would be held on Oct. 24 and would be "a little less weird."
The second post stated Schroeder had come to work Oct. 24 but had been "interrupted by [his] employer." Schroeder recommended a student teach class on Oct. 26 if they received a high enough score on their last test, and then proceeded to name prescription medication he was taking.
The posts were only up for a short time before being deleted, Sikes said.
"At first I wanted him to come back because I thought he just had a bad day, but after that email I was very concerned," Karr said.
On Oct. 26, Lavariega-Monforti sent a second email to Schroeder's Problems in Philosophy class that said, "The instructor moving forward with you in the course will be Dr. Micah Daily."
Daily began teaching Business Ethics and the first section of Problems in Philosophy Oct. 29. The second section of Problems in Philosophy was taken over by Assistant Professor of Philosophy Brian Collins.
"We're not too hung up on what happened, and we're just going to move on with the course because a lot of us are only taking it for [general education] credit," Yee said.
It is unclear if Schroeder will return to teaching at California Lutheran University. As of Nov. 5, he is listed in the course catalog as teaching Problems in Philosophy for Spring 2019.
"I think I see from everyone in that class that we hope that Professor Schroeder is good, and that he is doing better," Justman said. 
Academic Affairs, faculty members including Xiang Chen, the chair of the philosophy department, and Lavariega-Monforti declined to comment saying the situation is a "personnel matter." Campus Safety also declined to comment.
Ellie Long
Reporter