'We Thought it was Safe': Cal Lutheran Students who Survived Borderline Shooting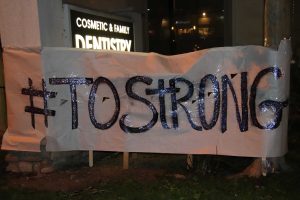 As the California Lutheran University community grieves the loss of life at the Borderline Bar and Grill shooting, three students shared their experiences surviving the open-fire incident on Nov. 7.
Santos Tecum, Sophomore
Sophomore Santos Tecum was among those who escaped the mass shooting at Borderline Bar & Grill on the night of Wednesday, Nov. 7.
Tecum said it was his first time at Borderline and he was sitting on a stool in the back corner of the bar, opposite the front entrance, when he heard the first shots.
Tecum—who has one leg as a result of a motorcycling accident—said he knew he couldn't run and escape, so he dropped to the ground and pretended to be dead.
"I was holding my breath for like two minutes…I saw people dying in front of me, a lot of blood, people crawling out the windows," Tecum said.
Tecum said that he heard one man beg for his life before being shot by the gunman.
Tecum stayed on the bar floor until a Special Weapons and Tactics team member rescued him. Tecum left the scene with minor elbow and knee injuries.
"I just prayed…I believe in God so I thank him that he gave me a third chance at life," Tecum said.
 Bryce Colvard, Senior
Cal Lutheran senior Bryce Colvard said she arrived at Borderline Wednesday around 10:30 p.m. with two of her friends and saw a many fellow students there for the venue's weekly college night.
"It was a normal thing…We thought it was safe," Colvard said.
About an hour after arriving, she heard gunshots.
"Everybody just kind of screamed get down and then two guys picked up barstools and threw them through the window," Colvard said.
As gunshots continued going "one after the other," Colvard said she grabbed her friend and jumped through the window, which she said was more than a story high.
"We just ran. We ran down Moorpark Road as fast as we could and we ran to Dog Haus and we banged on the door," said Colvard, who added that the restaurant was closed, but two workers let them in, barricaded the door and hid them in the kitchen.
Colvard said she and her friends went to Los Robles Hospital with cuts and bruises, where they were eventually asked to leave as people came in with more critical injuries.
Colvard said she was also a friend of Justin Meek, 23, who died Thursday from severe gunshot wounds he sustained in the shooting.
"I have no doubt that he did everything that he could to help people, because that's exactly who he was," Colvard said.
Gabby Flores, Sophomore
Sophomore Gabby Flores went to Borderline with some friends on the night of Nov. 7 and said her only thought when she heard the shots was, "I need to stay on my feet."
"Everybody was running, almost like a stampede," Flores said.
She said she joined many patrons that were shuffling out the back exit. There, she helped a man who had fallen on the ground in front of the doorway. She said people were jumping over him to get out the door.
"I told him, 'You got to get up, you got to get up,' so I grabbed him by his shirt and sort of helped him get up and then shoved him out with me," Flores said.
Immediately after escaping the bar, Flores called 911 and began offering other victims rides to safety, helping victims contact loved ones and helping treat the wounded. She congregated with other victims at a nearby gas station.
"Me and a former Navy guy; we gathered anything that we could, took off our shirts. We ripped things and we started bandaging people, telling them that it's okay and to stay calm," Flores said.
Flores' father served in the Navy for 25 years and she is in UCLA's ROTC program for the Air Force. She said she's always wanted to become a first responder.
Flores said that some of her friends were hiding in the bar restrooms, but all got out safely without serious injuries.
Flores is coping by "talking a lot" to friends, family members and counselors.
"It's going to be okay," Flores said. "Don't be afraid to cry, don't be afraid to talk, don't be afraid to be angry, don't be afraid to be guilty, don't be afraid to be scared. Just acknowledge those feelings, sort them out with friends, family and counselors, and look for that little light."
Brooke Stanley
Sports Editor
Dakota Allen
Editor in Chief