The community of Thousand Oaks and California Lutheran University have mobilized in response to the tragic mass shooting at the Borderline Bar and Grill Wednesday night. The Cal Lutheran campus will host several events to support the community members who have been affected.
Classes have been canceled Nov. 8-9.
The Cal Lutheran community gathered in Samuelson Chapel at 11:30 a.m. for a special chapel service that was standing-room only. Pastor Melissa Maxwell-Doherty said that "remembering is holy work" and that we need to remember to use our voices to sing, our arms to cling to each other and to sit in stillness.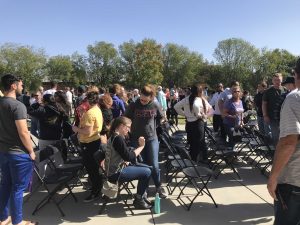 The hashtag #CLUStrong is being used for community members to stay up to date on news and offer support.
Blood drives are taking place at:
– Harley's Bowl West, Simi Valley 9 a.m.-1 p.m. today and tomorrow at 10 a.m.
– Ventura County Healthcare Agency   
– Best Western, 75 W. Thousand Oaks Blvd. (reached donation capacity)
– La Reina High School (reached donation capacity) but will open again tomorrow 10 a.m. to 4 p.m. 
-Red Cross blood drive at Cal Lutheran Nov. 10 in Lundring Events Center, 10 a.m. to 2 p.m.
Register to donate blood here 
Vigils and gatherings will take place Thursday at the following locations, and Samuelson Chapel will be open all day Nov. 8-9 for grief counseling:
– 6 p.m. rosary at Samuelson Chapel 
– 7:30 p.m. candlelight gathering at Samuelson Chapel 
– 6 p.m. community vigil at Thousand Oaks City Hall 
Other campus updates:
– Forrest Fitness Center remains open and yoga class will still meet at 5:15 p.m. Nov. 8
– The fall play "Columbinus," which details the massacre at Columbine High School, has been postponed
– The Cal Lu Improv Troupe show has been postponed
– Senior night Nov. 9 at Cisco's Mexican Restaurant has been cancelled 
– The Arete Vocal Ensemble concert scheduled for Nov. 11 is cancelled; those who purchased tickets will be reimbursed
Resources on campus:
– Counseling and Psychological Services  
Local resources:
– Ventura County Sheriff's Office has posted an information hotline at 805-465-6650
 This article was updated Nov. 9 at 11 a.m. to add the location of the on-campus blood drive .
Krystal Rhaburn
Distribution & Production Manager
Nicki Schedler
Features Editor