From Gunfire To Wildfire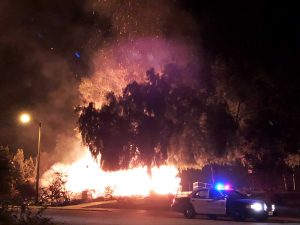 The destructive Hill and Woolsey fires have impacted residents of Thousand Oaks and Ventura County.
The Hill Fire ignited Thursday, Nov. 8 at 2:04 p.m. and the Woolsey Fire ignited at 2:25 p.m. in Canoga Park near the Rocketdyne facility.
California Lutheran University issued email updates Thursday night and into Friday morning informing students and faculty that the main campus was not under evacuation order but was on standby.
An update was posted on the university Facebook page at 6 p.m. after internet service was lost on the main campus.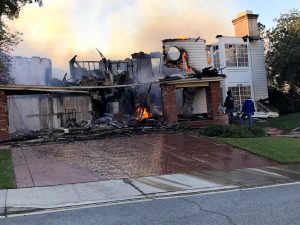 The situation is being "monitored," Associate Vice President of Operations and Planning Ryan Van Ommeren said in an email update at 3:07 a.m. Nov. 9. 
The Woolsey Fire grew Friday morning to 14,000 acres with zero containment and forced the evacuation of 88,000 residents from Ventura and Los Angeles counties, according to ABC 7. The fire affected houses in the areas of Erbes, El Monte, Glenbridge, Ridgeford and Canterhill.
According to CNN, the Woolsey Fire has destroyed nearly 370 structures and threatened 57,000 others as of Nov. 12. ABC 7 reported that dozens of people have been reported missing.
Mandatory evacuations are in effect for the city of Malibu. The city of Calabasas has also been evacuated, according to ABC 7.
Governor-elect Gavin Newsom declared a state of emergency for Los Angeles and Ventura counties on behalf of Gov. Jerry Brown, who is out of the state, according to The Los Angeles Times.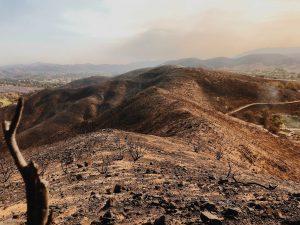 The fires have destroyed several homes and the Woolsey fire destroyed the famous filming location Paramount Ranch in Agoura Hills, according to CBS.
As of 5:01 p.m. Nov. 12, Los Angeles County Sheriff's Department Chief John Benedict has confirmed two people have died in Malibu in an area that was impacted by the Woolsey Fire, according to KTLA.
As of 9:19 a.m. Nov. 12, the Woolsey Fire is reported to be 20 percent contained at 91,572 acres, according to the Ventura County Fire Department.
The Hill Fire is reported to be 80 percent contained at 4,531 acres as of 8:22 a.m. Nov. 12, according to the VCFD.
The Hill and Woolsey Fires have burned more than 96,000 acres combined and have forced over 200,000 people out of their homes in the Ventura and Los Angeles counties, according to the Associated Press.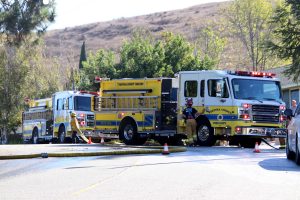 As Santa Ana winds reached speeds of up to 50 mph, the Peak Fire broke out around 10 a.m. in the Corriganville area of Simi Valley, south of the 118 freeway, according to CBS-LA.
The 118 Freeway was shut down in both directions until VCFD stopped the blaze at 12:40 p.m. at around 105 acres, according to CBS-LA.
The California Department of Forestry and Fire Protection confirmed at 4:34 p.m. that the Peak Fire was 100 percent contained at 186 acres, according to the department's Twitter account. There were no reports of structure damage or related injuries.
Editorial Staff
The Echo