Post-tragedy: What's next
November 12, 2018|8 Views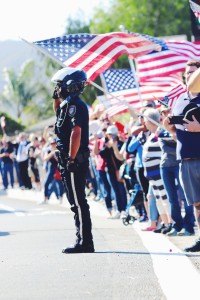 Classes at California Lutheran University resumed Monday following the Nov. 7 shooting at Borderline Bar and Grill and as wildfires continued to burn Ventura and Los Angeles counties.
"We all know that we've gotta be very flexible," Provost and Vice President for Academic Affairs Leanne Neilson said.
Cal Lutheran's emergency operating team, which includes University President Chris Kimball, Vice President for Student Affairs and Dean of Students Melinda Roper and other university leadership expressed their messages for students in an interview the afternoon of Friday, Nov. 9.
"We understand that this kind of lament and grief is a process," Pastor Hazel Salazar-Davidson said. "We value and support [students] no matter where they're at on the journey."
The Associated Students of California Lutheran University Government sent a Nov. 11 press release demanding that the university cancel classes Monday for "students still mourning the Borderline tragedy and countless students still being under mandatory evacuations from the Hill and Woolsey fires."
The release said that student government twice sent the university a request to cancel classes, which was denied both times. ASCLU President Nick Steinwender did not respond to questions sent via email.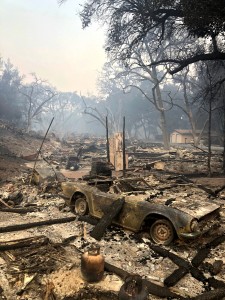 Kimball said in a campus-wide email that "our hope is that this return to routine and connection to others in our community will help us begin to heal from the experiences of the last week. We are prioritizing giving space to students, faculty and staff to be together and reconnect with each other in their grief."
Faculty met from 1-3 p.m. Sunday, Nov. 11 to prepare for going back into the classroom with students. There was a second meeting Monday from 10-11:15 a.m. in the Soiland gymnasium.
The university announced on Twitter that faculty would be expected to address concerns with assignments once classes resume.
The university does not intend to adjust holidays to make up for lost classroom time after classes were canceled Nov. 8-9 in addition to weekend classes, Neilson said, given that the fires qualify as a federal emergency.
"We want to make sure that if students need help…that they reach out," Roper said. "There are many resources on campus and we've been pushing those out."
The Samuelson Chapel has remained open for students, and Counseling & Psychological Services offered hours over the weekend with comfort dogs. Its regular hours during the week are 9 a.m. to noon and 1-5 p.m.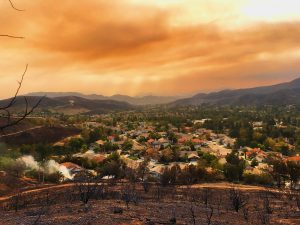 Cal Lutheran has also become the Ventura County emergency evacuation center. The Ventura County Sheriff's Office posted on Twitter Nov. 12 that all centers would be converging into Gilbert Sports and Fitness Center.
Regular Sunday night worship was replaced with a gathering in the chapel with prayer, worship, food and discussion on the subject of grief and how people are processing recent events.
Following the shooting that took the life of Cal Lutheran alumus Justin Meek and injured multiple Cal Lutheran students, additional contracted security was called onto campus through Monday morning, Campus Safety Director David Hilke said.
Roper said in a follow up email that the university has kept a running list of Cal Lutheran students that were present at Borderline Nov. 7. Roper said the university currently has "about 35 names on the list."
"We believe it is likely that others were there that we don't yet know about, and have also found that some of the names we were initially given were not at Borderline after all," Roper said. "Nonetheless, we have reached out to every single student on the list and will continue to provide care and support."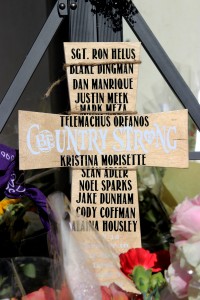 Meek's family was present at a vigil Nov. 8 and has expressed interest in a memorial service, Kimball said.
"All of us are grieving with them about the loss of Justin and other members of the community. We're all gonna walk together," Kimball said.
Students on campus were surveyed Nov. 8 regarding who had available transportation to leave in the case of evacuation due to fires. Van transportation or carpools would be offered to those without transportation.
Continuous campus updates have said that the university is continuing to "monitor the situation."
"Everybody that's here on campus is safe," Kimball said.
Dakota Allen
Editor in Chief
Olivia Schouten
News Editor