'How Much More can we Take': Campus De-Briefs on Lockdown, Shooting, Fires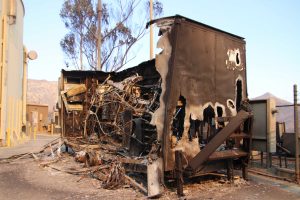 Members of California Lutheran University leadership hosted a gathering in Samuelson Chapel the morning of Nov. 13 to address students, faculty and staff about the events of the past week, including the campus wide lockdown initiated the night of Nov. 12.
"How much more can we take?" University President Chris Kimball said at the start of the meeting. "And a big part of being here today is to kind of talk where we are emotionally."
Kimball began by addressing the Nov. 12 lockdown. At 9:53 p.m., a campus-wide alert was sent directing anyone on campus to shelter in place "due to a bomb threat" at the apartments located on the corner of Olsen Road and Mountclef Boulevard. The lockdown was lifted around 10:20 p.m.
"There was no bomb last night," Kimball said. "The incident was an individual who was threatening to light himself and his apartment on fire."
Kimball said he was told by Thousand Oaks Police Chief Tim Hagel that it was uncertain what was going on, but to go on lockdown and send out the alert.
Associate Vice President of Planning and Services Ryan Van Ommeren later added that part of the reason for the lockdown was to keep students away from the scene to allow police to better deal with the situation.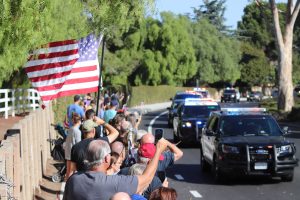 "What a painful thing to have on top of everything else that has been going on," Kimball said.
Kimball was followed by other university leadership including Dr. Ginny Maril, director of Counseling and Psychological Services and a licensed psychologist, Provost and Vice President for Academic Affairs Leanne Neilson, and Vice President for Student Affairs and Dean of Students Melinda Roper.
All who spoke emphasized that the university's focus is on student well-being and providing them with the resources they need to process the trauma of the Nov. 7 Borderline Bar and Grill shooting and the Woolsey and Hill fires.
"What's important to us is that you have what you need… this is not a one size fits all thing," Roper said.
In terms of academics, Neilson said "attendance policies are not in place right now." She emphasized working with faculty directly with any concerns about completing assignments or catching up. However, Neilson said students can appeal to her directly if they feel they are not being heard by their professors, and that concerns brought to her can be kept anonymous per students' wishes.
Microphones were passed out around the largely filled chapel for students to ask questions. Questions were asked about the cancelled blood drive originally scheduled for Nov. 10, which biology professor Paloma Vargas said she was working to reschedule and possibly turn into a memorial.
Students also asked about where they can donate to firefighters; a representative from Student Life said they would organize a donation site.
Some concerns were raised about policies in place in case of evacuation due to fires or an on-campus active shooter. Kimball said the gym is a shelter place for fires, and that bus transportation and student vehicles surveyed by resident assistants over the weekend would be used to leave campus.
Assistant Dean of Students Chris Paul said Cal Lutheran has mutual aid agreements with other local universities, and that at this time, California State University, Northridge would be a possible evacuation site.
Campus Safety Director Dave Hilke said that Cal Lutheran follows a nationwide "run, hide, fight" policy for active shooters. He said that sheltering wherever possible, locking and barricading doors, silencing phones, and fighting back with whatever tools available have all been shown to be effective. He said a drill had been planned for spring that would include firing blank shots, but in light of recent events, the date is being reevaluated.
Faculty and staff members reiterated resources available to students. CAPS currently has a walk-in policy. In addition, a psychiatrist is available weekly at Health Services.
Campus Pastor Melissa Scott-Doherty compared the community's situation to a flight attendant on a plane informing passengers to put their oxygen masks on, and then helping your neighbor.
"We need these people around us to reach out, to touch, and to love," Maxwell-Doherty said. "These people stand ready to walk this walk with you. And just to be clear, you're actually walking it with them too."
By Ellie Long
Reporter