Sophomore Goalkeeper Blocks Her Way into the Record Books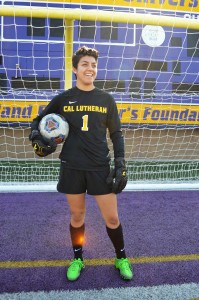 Sophomore goalkeeper Gabby Flores is a testimony that hard work pays off. Coming off an unbelievable season, the three-time SCIAC defensive athlete of the week (Sept. 3, Oct. 22 and Oct. 29) put up all-star numbers and blocked her way into the record books.
Allowing just four goals in 1,115 minutes and recording 48 saves, Flores entered the postseason ranked first in the nation in Division III women's soccer for goals against average and save percentage. 
But the hours of work put in to get there started long before Flores stepped on the pitch this season.
During her sophomore year of high school, Flores realized her dream of playing collegiate soccer. After receiving multiple looks from bigger schools, Flores decided on California Lutheran University because of the team dynamic and the close nature of the players and coaching staff.
"I came from a club team where we weren't just a team; we were a family," Flores said.  "And I was really looking for somewhere in the collegiate level that had that and I found that Cal Lu was the place to be for that."
In her first season at Cal Lutheran, Flores played a huge role in helping the Regals advance to their first-ever Sweet Sixteen tournament before falling to Williams College.
"When we went to the Sweet Sixteen, we learned what a really good, talented team looks like at the highest level that we'd seen," Flores said. "What we took from that was, that's where we want to be. That's the kind of dynamic, passing and technical skills that we want to have and it helped us out a lot this year."
Regals former goalkeeper and current goalkeeper coach Kiki Bailey attributes Flores' success this season to her learning experiences in the Sweet Sixteen and to the hard work put in during the offseason.
"Coming off of her freshman year, she saw all of the areas that she needed to grow in," Bailey said. "This summer, I definitely noticed that she put in the time to work on the footwork and it showed this year being quicker on her feet and getting to those higher shots, so the work definitely paid off."    
And pay off it did. In her second year in goal for the Regals, Flores recorded eight complete-game shutouts, tying for fourth in the Cal Lutheran record books for solo shutouts in a single season.
"I attribute a lot of it to my backline because I'm nothing without them," Flores said. "I always took it as if they get through my backline, then they have done everything they can to prevent that, and now it's my turn to say 'bring it' and I'm going to take this responsibility and have my teammates' back, just like they have my back."
Flores said she doesn't pay attention to the her stats or rankings during the season.
"It's my job and my responsibility as a goalie and a teammate to be there for my team to work hard so that we can get the win as a team," Flores said. 
Bailey, who is one of the most decorated goalkeepers in Cal Lutheran history, loves working with Flores and is excited to watch her climb her way into the record books.
"It's great working with someone who's really driven, that never settles, and is willing to work hard because it reminds me a lot of myself," Bailey said. "She is constantly pushing herself and to have somebody who is that dedicated to her sport and to making herself better is a huge compliment and I love to see her chasing down my records."
Along with practicing with her teammates, Flores consistently works out with a personal strength coach, boxes and participates in the Air Force Reserve Officers' Training Corps at UCLA.
"Work ethic means a lot to me," Flores said. "I learned from my club coach that if you don't do your work, even when you're not expected to do work, you're just going to settle for mediocrity."
Flores credits her experience in ROTC as one reason she was able to stay so level-headed Nov. 7, when she was one of the people at the Borderline Bar and Grill shooting. During the horrific night, Flores was among those helping people escape, tending to the wounded and trying to help in any way she could.
"I've always wanted to be out there helping, whether it was becoming a firefighter or EMT," Flores said. "Seeing people injured, seeing people hurt, I just want to be there to help no matter what."
Flores said one of her first thoughts was to make sure her team was safe.
"When I was at the shooting and I heard those shots, I wasn't thinking about myself or any of my accolades, I was just thinking about my team," Flores said. "The very first people I texted was our team group chat telling them not to come and the first person to actually call me was Trinity."
Sophomore defender Trinity Martinez is not only a teammate of Flores, but also one of her strongest encouragers and close friends. Martinez was sitting in her dorm room when she got the text and immediately called Flores.
"When she answered, it sounded like she was running and she said, 'Hang on,' so she just put me in her pocket," Martinez said. "For a while, all I could hear were sirens and people screaming until she got to safety and was able to talk to me. It was really scary and I felt helpless, but I knew that just being on the phone for her I think helped her a little bit more."
Flores said when one of her friends found out she had stayed at the scene to help other survivors, they weren't surprised. They told Flores, "Of course you stayed."
For Flores, her expectations for next year are to use the past two seasons as learning experiences. After finishing a great season and surviving a life-altering tragedy, she looks to push herself and her teammates out of their comfort zone and continue to work hard.
"I love Muhammad Ali and I live by one of his quotes," Flores said. "'Put in the work and suffer now, so that you can be a champion later.' And that's what I'm going to push myself to do."
Scott Roberts
Reporter