Diwali Brings Light, Festivities To Campus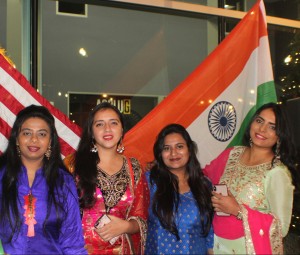 Club India rang in the Hindu New Year with Diwali Nov. 30 and the Student Union was glittering with lights. Diwali is the largest festival in India among all its cultures and religions.
The celebration featured upbeat Indian music and traditional Indian food. The patio was decorated with hanging candles replicating diya lights, an oil lamp made from clay with a cotton wick that is dipped in ghee or vegetable oils.
Students and community members joined the fun with Club India through group dances, henna and a photo station.
"(Diwali) is warmly welcomed for everyone who knows of Diwali," Club India President Chaitali Parikh said. "Diwali is not just focusing on one religion, even Jainism, even Islamic, even Sikhism…It is still celebrated that way because that's the unity of being Indian."
Club India Vice President Chintan Bhatt explained Diwali to guests and said the five-day celebration begins on the 13th day of the lunar cycle approaching the new moon.
The first day celebrates earning money, goods or valuables through ethical means that are spent with good intention. The second day signifies the defeat of the seven deadly sins within oneself. The following day is the triumph of good over evil.
Diwali's story comes from the Indian epic Ramayana. The last day signifies the Lord Rama rescuing his wife from the demon King Ravana and returning to their home, Ayodhya.
"The day (Rama) reaches Ayodhya is the day we celebrate Diwali, which is lighting of the diya lamps, putting out rangoli (art)…and bursting crackers," Bhatt said. "Unfortunately, we cannot do that. Fireproof campus."
Club India provided Indian appetizers and sweets from local Indian restaurants, such as pakoda, a fried vegetable snack, and barfi, which is a dense sweet with almonds.
Bhatt said that during Diwali, light foods are served with the expectation that guests will most likely be visiting and eating at several other homes throughout the evening.
Festival attendees and students Claire Meuter and Michelle Handal enjoyed the potato vadas, or fritters. Handal also said she loved the warm chai tea.
Originally, the festival was scheduled for Nov. 1, but because of midterms and the recent Borderline shooting and nearby fires, the event was postponed.
"I think it comes in a good time, and I think it's a really nice feeling to have right now between everything going on," Handal said.
Just as Handal gave her thoughts, the patio lights which had been off all evening at the festival of light turned on at last, bringing cheers and applause.
"Light conquers darkness and sometimes things are sad and bad in the world, but things like this are great to remind us that we're all together in a community," Meuter added.
Lauren Graf
Reporter