Warm Blankets, Warm Hearts
Sometimes a blanket, hand-stitched with care, can be the perfect comfort to those in need. An outpouring of handmade blankets, shawls and quilts have been donated to California Lutheran University and will be distributed Nov. 28, Dec. 4 and 5.
"I hope that [the students] really feel that the warmth and comfort of our community isn't just here in Thousand Oaks, it's across the nation," Executive Assistant for Mission Identity, Caeli Koizumi said about the Wrapped in Love event.
A Facebook post went out saying that Cal Lutheran was looking for 200 quilts. Koizumi said that once the message was sent, she received over 70 emails from individuals who wanted to know where to send the quilts and if it was OK if they were crocheted.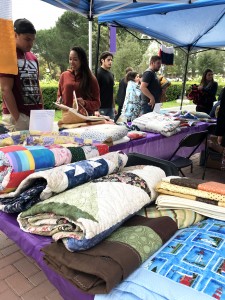 "The Lutheran World Relief does a collection, around this time, for quilts that they send to different places. So Melissa Maxwell-Doherty, the Vice President for Mission and Identity, reached out to the Southwest California Senate to do another call for quilts specifically for Cal Lutheran," Koizumi said.
The prayer shawls, fleece blankets and quilts are all brand new and donated as a gift for the community to enjoy. Director of Congregational Relations Desta Goehner said that over 170 quilts were donated.
"The quilts are a sign of love and warmth and a reminder of prayer," Goehner said.
Inger Smuts is a student worker for Mission and Identity who counted all the quilts that came in.
"It was tedious to count all of the quilts, but during that process I was able to see how unique and distinct each of them were, and it was even cooler to see how many students were able to find one that they liked," Smuts said.
Smuts said that her favorite part of helping out with this event was seeing the outpouring of support from all around the country in this time of need.
Goehner was at the Wrapped in Love event on Nov. 28 and said that she loved watching the joy and smiles of all the students receiving them in the Southern California cold. Goehner said she has not seen the students smile like that for a couple of weeks.
Koizumi said that the individuals that donated the quilts "want to help any way possible and this gesture isn't just a gesture, it's something that they can do. It's a gesture of the fact that this is warmth that goes beyond a blanket and goes beyond a shawl and that they're feeling for us this season in light of what's gone on."
Donations were received locally and nationally from Thousand Oaks to Minnesota and Delaware.
"The church cares for [the students] and this is a way to say, 'we sewed these quilts and prayed over them and we want to send them to you because you matter to us and your suffering and your grief and your loss and your trauma matter to us,'" Goehner said.
Koizumi said that she even received an email from individuals in Sandy Hook, Massachusetts who experienced a mass shooting at the Sandy Hook Elementary school.
"The email said, 'We know you were evacuated for the fires, we also stand with you in the aftermath of Borderline' and having them be from Sandy Hook, that means something in a completely different way. So it's a huge step forward," Koizumi said.
The event on Nov. 28 was such a huge success that all of the quilts were gone, but more are coming in for Dec. 4 and 5. Any quilts that are leftover will be donated to the organization Lutheran Disaster Relief.
Luisa Virgen
Reporter