Waffle Cones and Community
Free food, a toy drive, live performers and photos with Santa alongside his llama and alpaca "helpers" all made for a waffle-lot of fun at A Very Merry Waffle Wednesday on Nov. 28 at Westlake Brewing and Libations.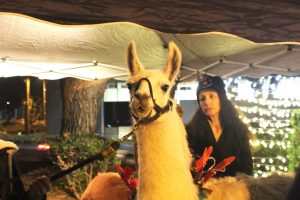 The event was one of many community events put on by Waffle Wednesdays of the Conejo Valley, which is sponsored by local mortgage broker company The Ross Group.
"Waffle Wednesday was something we started because at our mortgage company, we just wanted to engage with our customers when we weren't doing a loan or a mortgage for them… so we busted out a bunch of waffle makers and started making waffles, and it just kind of grew and people enjoyed coming and having a good sense of community," said Todd Ross, founder of The Ross Group and Waffle Wednesdays of the Conejo Valley.
Ross said Waffle Wednesdays began in 2013 and there have been several each year hosted at a variety of venues since then. As the events grew, he began to integrate a charity aspect. For A Very Merry Waffle Wednesday, toys were collected in partnership with Area Christians Taking Initiative On Needs to support low-income families in Ventura County, volunteer Linda Krukowski said.
Beyond the toy drive, the event featured savory and sweet waffles, Christmas cookies and hot chocolate, photo opportunities with Santa, and Larry the llama and Bob the alpaca. There were also performances by musician Elyse, magician Jarred Arroyo and comedian Jason Love.
The event and food were free; Ross said that The Ross Group covered most of the cost, but local businesses including Westlake Brewing, Gear Grinderz Coffee and Bringing Home Christmas also donated their time and materials.
People of all ages filled the indoor and outdoor brewery space, which was decorated with Christmas trees and lights, to enjoy the festivities.
"It's a chance to mix and mingle and just kind of visit with friends and hang out and have a good time," said attendee Paul Montgomery, who had been to several previous Waffle Wednesdays after hearing about them through social media.
The event also included the presentation of a wooden art piece dedicated to the 12 victims of the Borderline Bar & Grill mass shooting. The piece was created by Keith and Theresa Jepson and a moment of silence was held at 7:30 p.m. in recognition of the lives lost just three weeks earlier.
Ross said he thinks these kind of community events are even more important in light of recent tragedies.
"I think people have just a real desire to be together. And you have every socioeconomic, lifestyle, religion, just a bunch of different people that show up to these events and they just want to be together," Ross said.
Jenny Labrozzi, an event volunteer and employee of The Ross Group, said this Waffle Wednesday was originally planned to be larger and include an after-party, but event planners decided to scale back following the shooting and fires to heighten the "community feeling."
"We really wanted to do something that kind of honored what happened, but not bring the party down either, because… people need a little bit of a way to get together and socialize," Labrozzi said.
Ross said that while the next Waffle Wednesday hasn't been scheduled yet, he intends to plan a party that would benefit the aging population in the community.
"We want to do all kinds of things to encourage the community to come and just talk and be together with almost this forgotten population," Ross said.
Labrozzi said she enjoyed volunteering for Waffle Wednesday because it was all for a good cause.
"The real purpose is that community and helping people," Labrozzi said. "It's not all about the waffles."
Ellie Long
Reporter