New Programs Board Commuter Representative
California Lutheran University Associated Students of California Lutheran University Programs Board recently welcomed senior Nick Maldonado who will serve as the commuter representative. Born and raised in Fremont, CA, Maldonado also pitches for the Kingsmen Baseball team. While balancing school and sports, he now embarks on a new challenge pursuing student government at the collegiate level.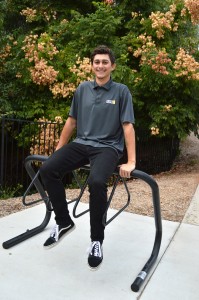 "I've been in student government pretty much my whole life. I was in student government in high school and going into this I saw all the potential opportunities that I could make to bring people together," Maldonado said.
 Program Board at Cal Lutheran is responsible for creating events for undergraduate students through activities sponsored by the Associated Students California Lutheran University Government (ASCLUG).
Maldonado said he enjoys representing the voices of students, taking on a leadership role and being around others who desire to strive for change and also strive to be leaders.
Maldonado described himself as an activist for the school, someone who doesn't just come to school then leave, but rather someone who stays and is a part of the culture.
Bringing people together and being a part of something bigger than himself makes Maldonado work hard to come up with new events and ideas.

 The first event Maldonado created for Cal Lutheran was a glow-in-the-dark dodgeball tournament. He said it was a challenge to put the event together, but it ended up being a huge success. Maldonado said there were struggles, but they were worth it.
 "I think the hardest thing is being behind the scenes with all the stress that comes with the events, but having everyone who participated tell me how much fun they had makes me want to make more events on campus and think how can I be a part of bringing people together," Maldonado said.
 Programs Board Director Heather Wilson-Hooker said that Maldonado brings a new perspective because he is the only student athlete currently serving on the board.
 "We don't have another student athlete on the board at the current moment for programs. I think that we all add a unique perspective of a voice for students since we all have different ideas and come from different backgrounds," Wilson-Hooker said. "I think that Nick being a commuter and athlete gives us both those perspectives and he has been a commuter since he's been a student for Cal Lutheran."
Maldonado has been able to give insight as to how those who commute have a different experience compared to those who live on campus.
"I think we have different representatives on the boards to serve as different voices and so I think they are all mindful of who they're representing," Wilson-Hooker said.
Current Programs Board member and ASCLU Senior Representative Adriana Bruzzone said that Maldonado was outgoing, humorous and, "He's a great fit for the programs board because he has event experience and wants to bring new events to campus."
Maldonado said he plans to continue to bring students together and further the culture on campus through the events and programs he puts together the rest of his time at Cal Lutheran.
Bryan Duda
Reporter