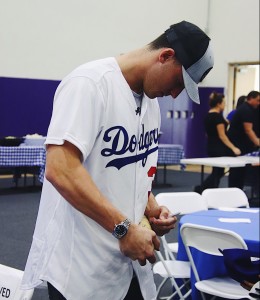 "In times like this, it's less about what you say and more about how you love," Dodgers Manager Dave Roberts said in his opening speech. "In the wake of tragedies, communities become support systems, neighbors become confidants, leaders like Thousand Oaks Police Chief Tim Hagel become friends and teams like your Los Angeles Dodgers become more like family."
Players from the Los Angeles Dodgers major league baseball team came to California Lutheran University on Friday, Jan. 25 to offer support to those affected by the Nov. 7 Borderline shooting.
Presented by Bank of America and the Dodgers, 20 players sat at tables among victim families, survivors and first responders in the Gilbert Sports and Fitness Center. Attendees had the opportunity to eat lunch with the players, take photos and get autographs and even line dance alongside them.
"We wanted to take time to honor the memory of those who passed away in the Borderline tragedy and come together to remember them, but also to provide a space for healing…and have the Dodger players bring smiles," said Maria Arias, Community Relations Manager at Bank of America and Cal Lutheran alumnus.
After a moving rendition of "Amazing Grace" by Brooke Simpson, singer songwriter and contestant on NBC's The Voice, each of the victims were remembered with a few words about their lives. Players then presented each family with a Dodger bat, engraved with the names of their loved ones.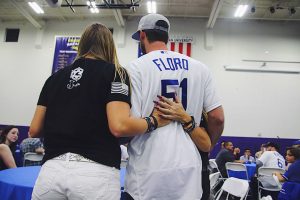 Pitcher Dylan Floro presented a bat in honor of Cal Lutheran alum Justin Meek to his mother Laura Lynn Meek, his father Capt. Roger Meek and his sister, Cal Lutheran junior Victoria Rose Meek.
Laura Lynn Meek said that the event was both enjoyable and emotional.
"The emotional part for me was being back here in the gym because it's where it all started his freshman year, as a mom of two students," Laura Lynn Meek said.
Third baseman Justin Turner presented bats to the families of Sean Alder and Telemachus Orfanos. He said that coming out and trying to lift the families and first responders up during such a hard time was "the least [they] can do."
"I know that hanging out with us isn't ever going to be enough to replace the people they lost, but, you know, we just want to show them that we love them, we support them, we're here for them," Turner said.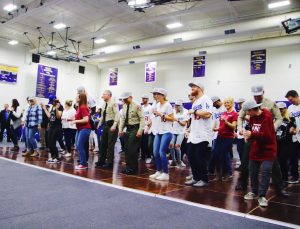 Jordan Helus, Cal Lutheran alumnus and son of deceased Ventura County Sheriff Sgt. Ron Helus, was presented with a bat in memory of his father by pitcher Walker Buehler. Helus said he was thankful to the Dodgers and to Cal Lutheran for the opportunity talk to some of the other families that he hadn't yet met.
"It's very generous for them to take time out of their busy schedules to do this. It's just nice to have events to bring the community together, like common ground between people," Helus said.
After the emotional ceremony, Victoria Rose Meek led the families, first responders and players in a line dance to the song "Why Don't We Just Dance" by Josh Turner. During the dance, guests and players were laughing and joking with one another.
Thousand Oaks Chief of Police Tim Hagel said this was the first reunion for some of the families and first responders since Nov. 7, when the news of their lost loved ones was first broken to them.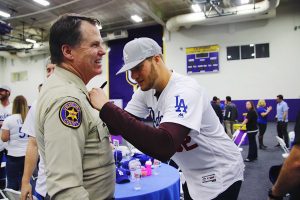 "This is the Dodgers pulling 12 families together and 150 first responders all together in one room. I mean look at it. It's electric. And they even got me out there dancing," Hagel said.
At the end of the event, Bank of America volunteers handed out Dodger shirts and Dodger hats stitched with the words "Thousand Oaks Strong."
Brooke Stanley 
Sports Editor