Regals Basketball Fights for Playoff Spot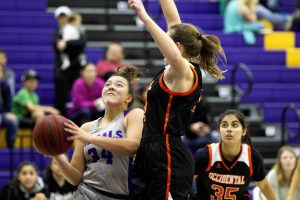 The California Lutheran University women's basketball team competed in a hard-fought game against Pomona-Pitzer on Saturday, Feb. 9, but fell short 56-62.
The Regals had a gutsy performance against the Sagehens with five lead changes throughout the game. Cal Lutheran kept within striking distance against Pomona for nearly all 40 minutes and proved to be better prepared than their last matchup Jan. 14, which ended in a 72-60 loss.
Defense was the biggest deciding factor, with both teams shooting under 40 percent for the game.  
However, the Regals did not have a hard time proving their fortitude, winning 50-50 balls early on. Senior guard Grace Derksen, out indefinitely with a torn ACL, said she was still proud of the team's performance.
"Despite the tough loss, our team did not give up. It was a whole team effort. We worked hard the whole game and even to the last buzzer," Derksen said.
After holding the Sagehens in check the first half on defense, turnovers and missed shots led to a second half surge by Pomona with 17 points off turnovers.
First-year forward Cameron Mallory had a solid game, coming close to a double-double for Cal Lutheran with 9 points along with nine rebounds.
"Throughout the entire game, we played with so much energy and intensity," Mallory said. "Girls were getting on the floor, fighting for every loose ball. Toward the end of the game, some shots didn't fall for us, and Pomona capitalized on that."
With shots not falling for both teams, every possession became more crucial down the stretch, especially free throws. Pomona had 11 more free throw attempts than Cal Lutheran, ultimately making nine more shots from the line.
Moving forward, first-year guard Kylie McEnroe said there are a lot of positive takeaways from this game.
"As a team we made a lot of progression and showed our grit. We played well through knocking down some key shots and locking down on defense," McEnroe said. "Our willingness to fight until the very end of the game and that sense of grit will definitely keep us moving forward."
McEnroe's first collegiate season was cut short by a grade-one ACL tear. Currently she is on the road to recovery with three to four months of rehabilitation.
Cal Lutheran looks to bounce back as they contend for the fourth spot in the Southern California Intercollegiate Athletic Conference against the University of La Verne and Whittier College, which would put them in the play offs. 
"We were proud of our effort and just have to move forward to our next game," Mallory said. 
With a SCIAC record of 6-8, the women's basketball team will take on the University of Redlands Bulldogs at home Wednesday, Feb. 13 at 7 p.m.
Jeff Wilson
Reporter