New Club Unites Faith and Fishing
February 12, 2019|8 Views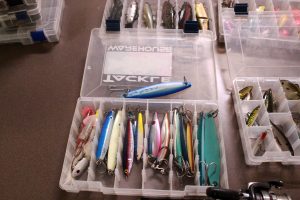 There may be no shortage of clubs offered at California Lutheran University, but that didn't stop senior Angel Abundez, junior John Basmajian and senior Brandon Apelian from fishing up their two greatest loves and creating a truly unique combination.
Fishing Through Christ is in its second semester, and despite a rocky start from events that occurred last fall, the club officers are more determined than ever to create a lasting community.
"We just started last year with my two favorite things in the world: my faith and fishing," said club president Abundez.
Fishing Through Christ's meetings alternate between fishing one week and Bible study the next. The goal is to develop a Christ-centered community and bring those who love fishing closer to their faith, said Abundez, who fills with excitement when talking about the concept he came up with.  
A few years ago, a friend of Abundez made the decision to leave Cal Lutheran because he felt that in terms of Bible studies, he wasn't able to live out his faith, Abundez said.
This really struck a chord with Abundez, and he said he wanted to do something about it for other students who might feel the same. Abundez's roommate and treasurer of the club Apelian was instantly on board, thinking it would be a great opportunity to get involved.
The club got off to a tough start when their meetings began in November. The Borderline shooting happened shortly after their first meeting, followed by the devastating wildfires that affected many Cal Lutheran students.
"We didn't have much time, and that's when everything kind of happened," Abundez said. "Everything was so chaotic, and everybody was lost, so I thought, 'What's the one thing you can always go to?' and that is your faith."
This semester, members of Fishing Through Christ are hoping to set a new tone and really take off, growing club membership.
Abundez and Apelian have a lot of ideas for fishing this semester, both freshwater and saltwater, and hope to plan a deep sea fishing trip. Fishing correctly and in a sustainable way is also important to the leaders of the club, Abundez said, as he is an environmental science major.
Abundez and co-president Basmajian acknowledge the challenge of appealing to students who want to fish, but not do Bible study, and those who want to take part in Bible study but aren't interested in fishing.
That is the reason they chose a club structure that varies what they do each week.
"I am coming up with the curriculum on my own…. We want it to be not so much a teaching session, but rather have it where everyone is in a group and we can discuss," Basmajian said.
A huge goal for the club is to eventually have their own boat, so they have the freedom to go on open water fishing trips. For now, they will be fishing from land. The supplies for fishing are all provided by Abundez, and there are more fishing supplies available for rent.
Something all three officers want everyone to know is that students can join regardless of their religion. They welcome everyone and want the club to be a safe community.
The first fishing trip of the year has yet to be planned, as the board of directors for the club is trying to find a new day to host club meetings, but officers plan to hit the ground running once they find a day.
Britta Olsen 
Reporter