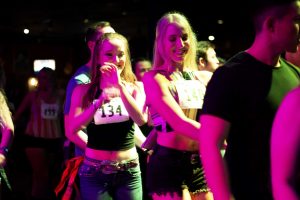 The Thousand Oaks building where Borderline Bar and Grill once hosted its College Country Nights remains empty following the Nov. 7 shooting that took 12 lives. However, every Wednesday night at the Canyon, a venue in Agoura Hills, Borderline lives on.
On Wednesday, Feb. 6, the Canyon was filled with smiling faces, line dancing and laughter radiating throughout the room as hundreds gathered for "Borderline Country Night."
"I believe there's a section of it that's healing for people, but I think the other is just being around like-minded people," said Lance Sterling, owner of the Canyon.
All of Sterling's five children were regulars at Borderline. He said he felt it was his obligation to open his doors to Brian Hynes, owner of Borderline. Hynes and Sterling have been friends for years.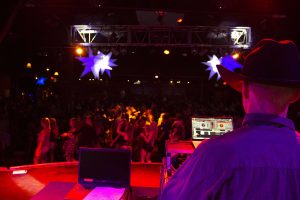 "I felt really bad. I realized that they probably needed to diversify to stay alive. And those kids were going to go out somewhere, and because those kids were also my children, I offered Bryan to do the events here," Sterling said.
Sterling's daughter was heavily involved in the decision-making process, and encouraged him to support Hynes during a difficult time.
Wednesday nights are the only country-themed nights at the Agoura Hills Canyon, but Sterling said Borderline Country Night is now being promoted at the other locations in Santa Clarita and Montclair.
"This hasn't been easy for any of us, and you know we're doing the best we can," said Victoria Rose Meek, a promoter at the Canyon Agoura Hills and a junior at California Lutheran University.
Meek also worked as a promoter in Thousand Oaks. She said she was introduced to Borderline and her job by her brother, Justin Meek, one of the victims of the Nov. 7 shooting.
"My brother pulled me into it…He was a promoter and they were looking for new promoters, and he just recommended me and thought I'd be a good fit," Meek said.
Cal Lutheran sophomore Alex Chatoff said he used to go to Borderline every Wednesday night, but he now enjoys the Canyon event.
"I feel like it's a really good coping mechanism for all of us and for me, it feels like a safe place, honestly. Especially with all of the security," Chatoff said.
Sterling said there are 30 surveillance cameras surrounding the building. There is also security throughout the venue, a metal detector, security outside the premises and armed off-duty officers mixed into the crowd.
"Come back out and be here, it's my job now to make sure all of you are safe," Sterling said.
Despite the extra security, Alyssa Baccillieri, a student from Pierce College, said it is still difficult for her to be there.
"I'm still a little anxious….I like it because I can finally dance again, that didn't get taken from me…it's just really scary being here, but you know I'm coping," Baccillieri said.
Baccillieri said that she went through the metal detectors with her phone, and it didn't go off, which made her feel unsafe.
Being that the venue is so large, about 400 to 800 guests typically attend, Sterling said.
"Honestly it's been really good, I like it a lot. I mean, I never thought that we could go to a different place and it would feel the same. It feels like we're just at a different place, but it's still Borderline," Chatoff said.
Meek said she hopes that the Borderline "family" will one day have a place to call their own.
For now, Meek said if you or your friends are planning on coming to the Canyon, you should expect to have fun, loud music and a good time.
Rose Riehl
Reporter