Senior Jonathan Goldstein: Intense in a Good Way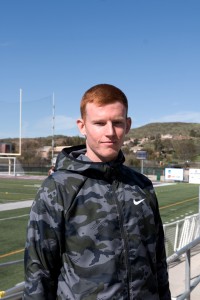 Despite winning an award for undergraduate research and being involved in an array of campus activities, California Lutheran University senior Jonathan Goldstein stays humble.
"Nothing happens at the drop of a hat. Nothing happens overnight," Goldstein said.
The exercise science major spends his time participating in ALLIES in Stem, coaching, studying, peer tutoring, doing strength and conditioning training with Young Athletes for Christ and working at Fitness 19 gym. He also played for the Kingsmen football team last fall. Despite all these commitments, Goldstein says he still gets seven or eight hours of sleep a night.
"[Goldstein] is kind of intense, but in a good way," said Travis Peterson, assistant professor of exercise science and Goldstein's research mentor.
Goldstein was awarded the Office of Undergraduate Research and Creative Scholarship's silver award at the Student Research Symposium in October 2018 for his research involving the long snap technique used in football. Goldstein was a long snapper for the Kingsmen.
"Long snapping has been like a huge part of my life, and it's really unique…it's a very specialized skill to learn in football… there's really nothing like it," Goldstein said.
Long snapping is when a player throws the ball between his legs, 15 yards behind him to the kicker. Goldstein looked at the mechanics and the movement behind this specific technique in his research.
A Ventura County local, Goldstein first found his passion for exercise science when he was in eighth grade while participating in a football strength and conditioning program at The Factory. At the performance training facility now located in Westlake, he met "Coach Mike G," director of performance and current performance consultant for the New Orleans Pelicans. Coach Mike G's energy inspired him to pursue kinesiology.
Goldstein later worked for The Factory in the spring of 2017.
Peterson said that Goldstein's enthusiasm is "infectious".
Goldstein's friend Cortez Espinoza, who met Goldstein through the exercise science department,  said that Goldstein's outlook on his research experience "was about the experience of others."
Espinoza said he witnessed Goldstein's selflessness and hard work when Goldstein would come early and stay late. Goldstein even helped Espinosa with his research project, and Espinosa said he sees Goldstein as a mentor.
Goldstein said he was "surprised" when he found out he had won the silver award for undergraduate research. At first, he didn't even know there were awards. Espinoza said it was well deserved.
"I think the awards, or his success, are just a reflection of him putting in the work and the effort and his willingness to kind of dedicate himself to doing something. But to him, I don't think that's anything new or special. I think that's just kind of how he operates," Peterson said.
Although he has no concrete plans for graduate school, Goldstein said he wants to coach and work with young athletes.
"Whatever he does, I'm sure he will tackle with enthusiasm. He really kind of has a knack for getting into something and going for it," Peterson said.
During his summer research endeavors, Goldstein's initiative and personable attitude gained him access to an elite football camp. The data received from this camp allowed Peterson and Goldstein to study "the top tier" of high school and college athletes in the country and increase the development of the project, Peterson said.
"I always tell people that it's a relentless pursuit of personal progress," Goldstein said.
Goldstein believes in the importance of trying to be the best person he can for those around him.
"If you have positive responses you are going to have positive outcomes. If you have negative responses, it's going to be negative," Goldstein said.
Sophie Zepf
Reporter