Courtside Captain Grace Derksen Continues to Lead Regals Basketball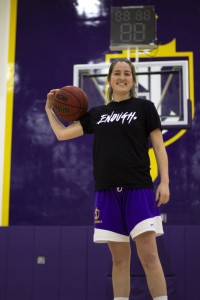 It's your senior year and basketball season has just begun. Basketball has been your entire life, your identity, and during a practice you go for a rebound and snap—you've got a torn ACL. That was the reality for California Lutheran University senior star Grace Derksen.
Derksen played three seasons of Regals basketball without  sustaining any major injuries until this season. Basketball, at least in the way that she has always known it, is out of the picture.
Derksen has always been an athlete. She played softball and soccer as well, but in high school she ultimately decided to pursue basketball. That led her to playing in the Amateur Athletic Union in her home region of Northern California and then being recruited to play here at Cal Lutheran.
The business administration major has played all four years  for the Regals and even started 11 games in her first year.
Senior Alexa Barnes and Head Coach Lindsay Goldblatt both said Derksen is one of the best people they know, both on and off the court. They both describe her as incredibly dedicated, fiercely loyal and hardworking.
"She is one of the most caring people I've ever met in my life. If she is your friend, she will do anything for you," said Barnes, Derksen's friend of four years.
Goldblatt said she has valued Derksen since day one as a first-year, as she was always taking the extra step, watching tapes and staying late to get extra shots. She is loyal and is there for the team and coaches no matter what, Goldblatt said.
"She has been a really positive impact on the team in the last four years…She is  really dedicated to the team, the program, to basketball, to getting better," Goldblatt said.
Derksen thinks of her team as her family. Spending breaks, holidays and summers together really bonds the team and they are there for each other both on and off the court. That close bond, Derksen said, makes being unable to play even harder.
In a scrimmage right before the start of her senior year, the team was doing a 5-on-5 drill when Derksen went up for a rebound and landed on her left instead of right leg. Upon landing, she heard a loud pop.
"I knew exactly what it was though because I've heard the description of what it was, but just denied that it was true," Derksen said.
A torn ACL is a common injury, especially among basketball players. Goldblatt said that with modern science they know a lot more about the injury and have ways to prevent it, but it still happens all the time, and can often be a career-ending injury.
"It was definitely devastating at the time, and like really hard to handle because it's like your identity…I've been playing for so long," Derksen said.
Seeing her go out with a severe injury was hard on everyone because the team looked up to her as a leader. Although she is no longer playing, she still continues to lead the team in a different way.
Derksen's new role from the sidelines is supporting the team, looking at things from the outside and learning about coaching. Although she misses being out on the court with her teammates, she is looking at this injury with a positive  attitude and learning the game from a new perspective.
"This injury has really taught her a lot of patience to have to be off the court, and it has helped her with patience with the younger girls, and take on a different kind of leadership," Barnes said.
Derksen said this injury has also opened other doors. She has worked in the Sports Information department at Cal Lutheran as a statistician for men's and women's soccer, football, softball and baseball.
In the future, Derksen could see herself working sports information for a professional or collegiate team.
This injury just may have been a blessing in disguise that will lead to her engaging in sports in a new way.
"I mean life gives you what it gives you, and it's opened doors for other things in my future," Derksen said.
Britta Olsen
Reporter