After Delay, Cal Lu's Annual World Fair Returns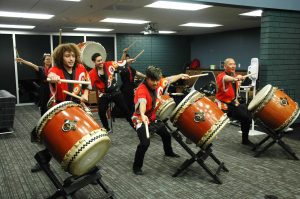 For more than 23 years, California Lutheran University has been home to the World Fair, an event celebrating global diversity and international unity. Hosted by the campus club United Students of the World and the Center for Global Engagement, the event typically takes place in November, but was delayed until Feb. 13 this year.
"With everything that happened last semester we decided to cancel and throw it together this semester," said sophomore Keira Jew, current president of United Students of the World.
Jew said all the vendors and clubs associated with the event were incredibly understanding when she called to reschedule after the campus was impacted by wildfires and the shooting at Borderline Bar & Grill.
"We really wanted to continue the celebration, despite the delay," said Christina Sanchez, associate provost for global engagement. Sanchez said changing the date meant the organizers had to scale down the event, but presenters still filled the main room of the Student Union on Wednesday night.
This year, the World Fair featured 12 tables with activities, themes and treats from around the globe, with an emphasis on East Asian cultures. Past fairs have been larger in size, with over 30 tables, and not focused on any specific region.
Jew said she chose to highlight Asian cultures because many members of her club are Asian-American and the university has seen a recent increase in the number of Asian students.
"It was kind of controversial," Jew said of her choice to emphasize Asian countries. "I just wanted to highlight Asian cultures because it represents our current group. Some faculty weren't excited about a theme because they didn't want to represent one country over others."
Local henna artist Amita Somani set up a table and intricately applied homemade ink to students' hands in traditional designs. Other booths included world trivia for candy prizes and lessons on how to properly put on a hijab. The Study Abroad Center and Center for Global Engagement shared information with students about visiting different cultures for academic credit.
"This event takes a village," said Linda Boberg, assistant director of international student services. Boberg said many people were involved in making the event a success and it couldn't be done without the enthusiasm of the students involved.
The Jishin Taiko Ensemble from California State University, Northridge performed twice during the evening, filling the Student Union with the sound of traditional Japanese drumming. The percussionists, dressed in customary martial arts pants called hakamas and festival coats called happis, danced and shouted rhythmically to the taiko drums.
Futimo Azama, a senior at CSUN and president of the Jishin Taiko group on their campus, has been playing in the ensemble for four years. Azama has played on campus at Cal Lutheran twice and said the club is always happy to travel to other colleges to share their music, which he described as unique feature of Japanese culture.
Students enjoyed a catered meal featuring cuisine stations from around the world, including the Pacific Rim station, South of the Border station, Asian station, and Mediterranean station.
"Our main goal for the event is really like the one for our club. We're spreading cultural awareness, expanding on cultural diversity, breaking down stereotypes and celebrating our differences," Jew said. "I think we did that."
Katherine Lippert
Reporter