Black Student Union's Second Annual Soul Fest Brings Together Food, Performances and Community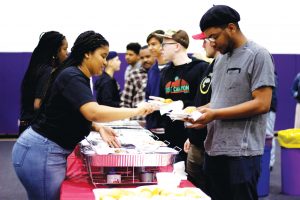 With a photo booth, games, performances by students and catered food, California Lutheran University's second annual Soul Fest hosted by the Black Student Union brought community members together to celebrate Black History Month.
"This event is just to get people aware that it's Black History Month and to share our culture with the rest of the school, so we have a whole bunch of different performers and food as a fun way to get people aware of our history," said sophomore Maddie Terhune, events coordinator for Black Student Union.
Terhune said the event is called "Soul Fest" because the African-American community is very in touch with their souls. The event showcases soul music and soul food as a way to represent African-American culture.
The event took place from 5-8 p.m. in Soiland Multipurpose Arena on Feb. 22. The event began with food and a live DJ, followed by trivia questions, "guess the song" and student performances.
Senior Virginia Anderson was in charge of planning the first Soul Fest and decided to come check out the event this year when she heard about it through social media.
"The food is amazing and is always fun. I also like this year's location better because we had it at Kingsmen Park last year. It was really windy and cold; it was a struggle and taking everything down, personally, was rough," Anderson said.
Anderson said that last year, the cook quit the day of the festival. The first annual Soul Fest also got shut down by Campus Safety because of noise, sophomore Jai Shannon said.
Shannon said the event has "matured' since the first Soul Fest because of the amount of space in Soiland Arena compared to Kingsmen Park. Shannon said she believes this year's Soul Fest is better than the first because of the turnout.
The catered food from Popeyes Louisiana Kitchen included varieties of fried chicken, green beans, biscuits, beans and miniature pies.
Shannon said she feels Soul Fest is a platform to represent different talents in order to bring a sense of community.
"I wish there was more funding for BSU to do more events like this," Shannon said.
Junior Matthew Leong heard about Soul Fest from a friend who checks the HUB student events calendar on the Cal Lutheran website because they want to go to more events on campus. Leong said he also knew some of his friends would be performing on stage during the festival.
"I thought it was going to be at Kingsmen Park, but it caught me off guard when I heard it was going to be at Soiland this year. So far, I think it's set really well because we didn't have to dress up all fancy or anything," Leong said.
Leong said the event was different from what he expected and is glad he stayed because he wanted to watch his friends perform.
"This event means a lot to me because we don't have that many events that bring us together. The faculty members on campus come to see performances to see what's going on, and it kind of brings a sense of community and I wish we had more events like this," Shannon said.
James Alfaro
Reporter