Kicking it with the pros: Cal Lutheran senior tries out for San Diego Strike Force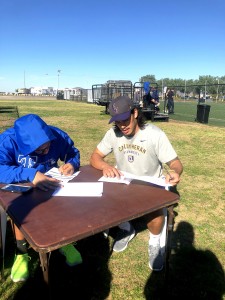 Editor's Note: Echo Reporter Dominick Grimm spent several weeks at preseason camp trying out for an arena footbal team this February. In the first-person column that follows, Dominick shares his experience.
On Nov. 25, 2018, I was sitting on the couch watching the Canadian Football League 106th Grey Cup, the Super Bowl equivalent of the CFL, with my family.
My mom, who lived in Canada for part of her childhood, was on Facebook when she saw a post about an upcoming tryout for the newly announced San Diego Strike Force, a professional Indoor Football League team based at the Pechanga Arena. I had two weeks to prepare for the tryout in Chula Vista, a city just 25 minutes from my hometown.
I showed up to the December tryout with $80 I borrowed from my mom, only knowing the time and location.
After the tryout, Strike Force general manager Brian Cox asked me, "Mr. Grimm, how would you like to be a part of bringing arena football back to San Diego?"
He handed me a contract with my name on it.
I was shocked. I came into the tryout with little information and low expectations. A couple hours later, I inked my first professional football deal where I would make a couple hundred dollars a game.
Fast-forward to Feb. 1 of this year, the first day of the Strike Force preseason camp, where the roster would be cut from 45 to 26 players. I met the other players in the banquet room of the hotel, nervous because I the youngest player and the only one still in school.
As soon as I stepped through the door, I heard, "Dominick, how's it going, bud? Nice to finally meet you."
It was my new teammate and fellow kicking competitor Ernesto Lacayo. Ernesto was a former All-American kicker and punter at Hastings College in Nebraska and played nine seasons of arena football with six different teams. He holds an All-Arena/All-Indoor record of 30 field goals in one season. His success in the league has also caught the eye of a couple NFL teams, earning him a workout with the San Francisco 49ers and, most recently, the Chicago Bears this past January.
Some might have been intimidated by his success, but I looked at it as an opportunity to learn from someone with experience to share and thankfully, Ernesto had no hesitation teaching me. He was very receptive to my questions and encouraged me whenever it was my turn to kick. Ernesto said he didn't know why some kickers have such a cutthroat attitude when it comes to competition on the professional stage.
"At the end of the day, it is the coach's decision, the general manager's decision. It's not ours. So why not compete with someone rather than against someone? Kickers need to be good to each other," Ernesto said.
Every day for the next two weeks he taught me all aspects of being a professional athlete. Most importantly, he taught me how to adjust to the goal posts in arena. A field goal upright for the NFL is 18 feet, 6 inches wide. Arena field goal uprights are only 9 feet wide, less than half the traditional size, so it is quite the adjustment.
"A lot of guys that can play outdoors can't play indoors. And those that play indoors cannot necessarily play outdoors. Arena is just a different game," Ernesto said.
Ernesto also introduced me to his close friend, Strike Force offensive lineman Jackson Dallas.
Although Jackson plays center as a part of the offensive line, he also trains with Ernesto because his second position is long snapper. Jackson has quite a resume, with five years of experience playing in the arena leagues until he was picked up by both the Birmingham Iron (2018) and Atlanta Legends (2019). These teams are part of the brand new professional and developmental league, Alliance of American Football (AAF). 
Jackson was another great mentor for me. He left midway through camp because of an opportunity with the Memphis Express of the AAF, but was later released. He recently signed with the Baltimore Brigade of the Arena Football League (AFL).
"You're a nice guy who has plenty of talent and potential," Jackson told me after he left. "Being able to punt and kick as a combo guy will increase your value…you're young still in this football world and need to keep perfecting your craft."
The two introduced me to NFL veteran kicker John Carney, taking me to his gym and kicking facilities in Carlsbad. Carney has 23 years of NFL experience, where he's played with eight different teams, is the third all time scorer with 2,044 points, and now coaches prospective college kickers, punters and long snappers.
"That man right there," Ernesto said, pointing at John Carney. "That man will get you where you need to be. If you do your part, he will do his. Dominick…you remind me a lot of myself after my collegiate career, but you have the tools now that I didn't get until I was 27 to be successful. So use them," Ernesto said.
I was blindsided by the comment. To be compared to one of the most successful kickers in the history of arena football is a massive compliment. Ernesto gives me some big shoes to fill.
I came into camp with the team nervous and expecting very little to come of it. But in the end it turned out to be one of the greatest experiences of my life. It made me realize I don't work hard to get these types of opportunities—I work hard to perform well when these opportunities come.
On Saturday, Feb. 16, 2019, I was officially released from the Strike Force.  The mentors I met and the lessons I learned will further prepare me for the next big opportunity.
I plan to continue to pursue my athletic career and have been in contact with two CFL teams: the British Columbia Lions and the Edmonton Eskimos. This is the best goal for me because I'm in the process of getting my dual citizenship in Canada, as my mom's family is from Victoria, British Columbia. However, in March I will start a three to six month recovery process after surgery on my torn patellar tendon from a pre-existing injury sustained two years ago.
Dominick Grimm
Reporter