Here to Serve Your Needs: A Closer Look at Cal Lu's ITS Department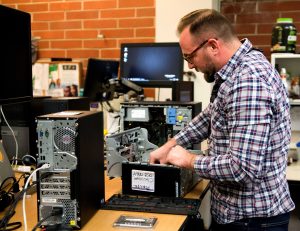 Bronek Wroblewski opened a door behind Pearson Library's help desk at California Lutheran University, revealing a small room with cubicles, mundane windowless walls and artificial light.
"The people that work in our tech department are back here," he said.  
Wroblewski has worked at California Lutheran University for about eight years as a computer systems specialist, and is one of several staff members integral to the Information Technology Service department.
"People don't realize that here on campus we have thousands of computers and it ranges from anywhere, like the computers students use in labs, to staff and faculty members' computers," Wroblewski said.
Cal Lutheran's ITS department has eight computer systems specialists, who make up only a portion of the overall staff.
According to the Cal Lutheran ITS webpage, there are 27 staff members working for the department. The department provides services such as computer support at the Help Desk, presentation technology through Media Services, faculty and staff tech training and telecommunications support.
 "When we first started [in 1999], we had a huge analog phone system that took up a room, an entire room. Now everything is on the computer, so the whole job has completely evolved in the last 20 years," said Craig Minney, telecommunications manager for ITS.
 The telecommunications sector looks after all phones, computer data, wireless access points, cameras, fiber optics, faxes, fire alarms, elevators or "anything that has to do with telecommunication at all," Minney said.
 At Wroblewski's cubicle, there are Apple computers and laptops placed around his desks, one of which had an exposed circuit board. There were also stacks of boxes with new Apple laptops inside.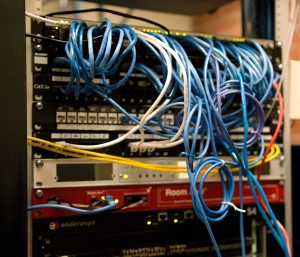 "It's like a Mac graveyard in here, but you'll see computers in all different states," Wroblewski said.
 Wroblewski explained that computer systems specialists help with Mac computers, PCs and phones. They also "run all over campus" to help faculty when they have issues with classroom computers.
 "My greatest gratification here is when people are so happy, to see them happy, and to see them be able to go on their way," Wroblewski said.
 Wroblewski said ITS is the busiest during the summer, because this is the only time techs can get into classrooms and assess what needs to be fixed.
 "When students walk into those classrooms, they don't realize what it took to have all those computers put into place," Wroblewski said.
 Further back in the ITS office, past an unlit hallway, is another room with more cubicles where ITS administrators work. Wroblewski said administrators often come in late at night or on the weekends.
 "There is always somebody watching our systems and our networks, like our administrators and our directors," he said. "Those guys are on call 24/7."
 David Powers, an ITS programmer of about two years at Cal Lutheran, works in this back room.
 "My duties are needs-based, so you can say that IT is a total customer service organization. We're here to serve the needs of campus, primarily the needs of students," Powers said.
 As a programmer, Powers writes code and is a "hands-on developer." He is also involved in discussions that explore ITS needs, and finding solutions that can be implemented into services.
 "The most rewarding things are being involved in creating solutions that have utility and add benefit," Powers said. "The most fulfilling thing is doing something, and the true validation of doing it right is people's lives are either better or easier or more efficient."
Yolanda Arciniega
Reporter