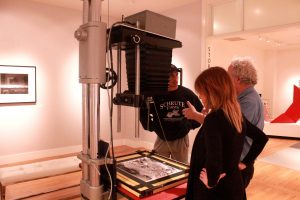 Situated humbly between the Sports Treasure and a children's clothing store in The Oaks mall, the California Museum of Art Thousand Oaks is easy to miss. However, those who do step inside are greeted with exhibits including photography by Ansel Adams, paintings by Kevin Sloan and a walk-through "Forest of Wishes."
"It's small, but it's wonderful. It's here for the community and it's everyone in Thousand Oaks' museum…We want people to think of it that way, that it's their museum," said curator Lynn Farrand.
Farrand stood adjacent to a poster which read the museum's mission statement: 'Where Ideas are Shared and People Connect.'
Many of CMATO's exhibits are participatory and visitor-oriented, which Farrand said deepens the meaning of the art.
CMATO's first few exhibits were held in an old Taco Bell building, and featured pieces compiled by California Lutheran University, Moorpark College, Ventura College and California State University, Channel Islands students.
After plans were made to expand, The Oaks location was set to open Nov. 8. That date was pushed back two weeks "to show respect for the fallen" following the Nov. 7 mass shooting at Borderline Bar & Grill and the devastating Woolsey and Hill wildfires, Farrand said.
An exhibit after the tragedies allowed guests to participate in the creation of art and express their feelings. This exhibit was composed of handmade ropes hung from exit to exit in the main space of the museum, with positive affirmations written by residents covering strips of cloth. "Rest in Peace" and "TO Strong" were among the phrases hung along the banners, which resembled Tibetan prayer flags.  
The art piece is a reflection of the ongoing healing of Thousand Oaks following the tragedies, Farrand said. Although the exhibit is no longer up, the new exhibit "Forest of Wishes," installed by Karen Payton, continues to reflect the community's emotions. Guests can walk into an area filled with hanging green paper leaves, where participants write their wishes down. One leaf was marked with the words "I wish for gun violence to stop" and another leaf plead for "peace and happiness."
Other featured works include the painting "Ancient Guardian" by Kevin Sloan. It shows a sitting rabbit on top of a hill with fire burning the mountain behind him, and a match hanging from a string on the left. While the color scheme of the painting is composed of browns, dark oranges and gray-green shades, museum visitor Debbie Doherty sees it as a symbol of carrying on.
"It's timely in nature as it shows nature dealing with fires, but still remaining even as the time changes," Doherty said. "It's fascinating, and to have this art in our community is fabulous."
Another fan-favorite is the painting "The Inevitability of Warmth" by Sloan. This painting resonated with museum visitor Michael Reindel, who was drawn to its "warmth and contrasting colors."
Creating a welcoming and passionate environment for celebrating artists is another top priority for museum staff.
"We've been so fortunate to have great artists…it's not just painting for painting's sake," Farrand said. "We're just as happy to be here, we have lots of volunteers and we have some very dedicated employees that are passionate about art and doing something bigger."
The museum will host its new collection in spring 2019, with work from Thousand Oaks local artist RISK. CMATO is open from Wednesday to Sunday, from noon to 7 p.m. There is a $6 suggested donation.
Erin Niemi
Reporter