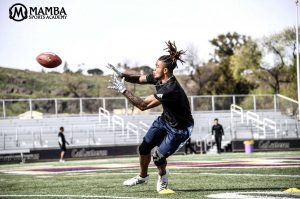 The 2019 NFL Scouting Combine took place in Lucas Oil Stadium in Indianapolis, Indiana February 26 through March 4. During the four day combine, over 300 NFL draft prospects  were evaluated based on size, speed, strength and overall performance by coaches, general managers and scouts.
California Lutheran University played a role in preparing some of this year's top prospects for this vital step to being drafted.
Cal Lutheran opened up William Rolland Stadium every Tuesday and Thursday for the past month to allow players to get valuable onfield practice time, in a partnership with Mamba Sports Academy in Newbury Park.
Community Manager at MSA Daniel Chavez said the training facility has established strong connections with NFL draft prospects over the years.
Chavez is a former Cal Lutheran student who has been involved in the fitness industry from a young age.
"From our trainers to the agents, a lot of good relationships have been built from the previous year, which has led us to get some of the top NFL prospects like Dwayne Haskins, Greedy Williams and Quinnen Williams just to name a few," Chavez said. "Having great trainers helps us out tremendously. We have a higher center of excellence here at MSA."
Cal Lutheran graduate and former Kingsmen football player Wendell O'Brien was invited to the pre-draft workout with the Los Angeles Rams in 2018.
"I got a call to come catch with the QBs and stuff since I know the people and coaches at Sports Academy. Since then, we ended up building really good relationships, to the point that all of them asked me to be a part of their pro day to catch for them," the former offensive All-Conference MVP said. 
Even though the combine training is year-long as athletes are continuously preparing for the upcoming season, most players reported to camp in January. It all depended on who played in bowl games for their college teams.
Another former Kingsman, Kayden Clements, has been training at Sports Academy for several years now and knows what it takes to bring his game to the next level.
"The best part about it is the environment we work in. Everybody is there to work and get better and we go at it every single day. Training with and being around the guys that are playing in the NFL and CFL has been great for me," Clements said.
Rebranding from Sports Academy to  Mamba Sports Academy in partnership with former Lakers star Kobe Bryant has also given the company a leg-up in attracting players to work out.
"Anytime you have someone as big as Kobe who joins your team, it makes an immediate impact. It makes things a bit easier," Chavez said.
Multiple athletes who have trained with MSA at Cal Lutheran are projected to be top-10 drafts after successful combine performances. Quinnen Williams is projected to go no. 1 overall, while Dwayne Haskins is projected go no. 6 overall. Greedy Williams' performance is also expected to get him to the first round of the draft.
The Scouting Combine results are up online at nfl.com/combine.
Jeff Wilson
Reporter
Editor's note: This article was edited on March 11, 2019 to correct the misspelling of Cal Lutheran alumnus Kayden Clements' first name.