TESOL Specialist Tammy Whitlow: Called to Make a Difference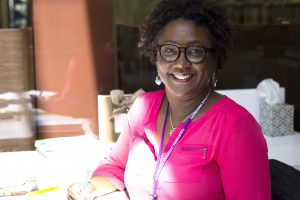 With California Lutheran University's Teaching English to Speakers of Other Languages minor growing, newly hired Writing Center TESOL Specialist Tammy Whitlow inspires and helps students schoolwide develop their English skills.
"My main passion has been educating kids and students, period," Whitlow said. "My passion is helping students feel good while learning."  
The TESOL minor within the English department was added in fall 2017. The minor is intended to provide students with methods and materials to teach English as a second language.
A typical day at work for Whitlow since starting at Cal Lutheran in December includes helping students with their writing and reading and creating strategies for them to better grasp the English language.
The TESOL program has flourished under Whitlow's direction and is expected to grow, said Writing Center consultant and junior Meagan Toumayan. Toumayan's and Whitlow's first conversation included a discussion about a book they were both reading at the time.
"[Whitlow] is down to earth, professional and passionate," Toumayan said.
Whitlow began her teaching career at the elementary school level, and found her calling teaching first and second graders how to read. She worked her way up grade levels and around the country, teaching many different groups of people.
Whitlow then went back to school to become an English language specialist and earned her master's degree in TESOL. She then began teaching at the middle school level and worked as a middle school English language specialist and a private reading and writing tutor for adults and children.
To "get her feet wet" in the university field, Whitlow worked as an adjunct professor as her goal was to teach at the higher education level. As an adjunct, she continued to expand her expertise with refugee and immigrant students in Connecticut.
The international students she works with have "funds of knowledge," Whitlow said, but learning and becoming fluent in another language takes time.
"These students want to feel like they have a place and that they belong," Whitlow said. "It is so satisfying to me to know that I have helped someone understand and to help that person have an 'Aha!' moment. That is what keeps me going."
Outside of the classroom, Whitlow says she is inspired by her family, the women in her life and her faith. In her office, she has a picture called "Women of the Earth" with four women in whom she sees her great-grandmother, grandmother, her mom and herself.
"I feel like I'm standing on lots of people's shoulders," Whitlow said. "That [picture] is what I keep in my mind to keep me going."
She also aims to inspire not just her students, but her own kids as well. While moving state to state for her teaching jobs, she encouraged her children to make an impact wherever they lived.
"My family's vision is that we are called to provoke change," Whitlow said. "We are called to go out and make a difference."
Cal Lutheran Writing Center consultant junior Brianna Zaragoza admires Whitlow's determination and ability to connect with her students. She said when Whitlow started working in the Writing Center, she made a genuine effort to get to know each person on the staff and in the program.
"She cares so much about her students and has both the passion and the tools to teach," Zaragoza said. "It's hard to have both."
Erin Niemi
Reporter