Makin' Movie Moves: New Film, TV Major Premieres Fall 2019
David Grannis, an associate professor of communication, has been pushing California Lutheran University to add a film and television major to its list of offered undergraduate programs for two decades. In fall 2019, his dream is becoming reality.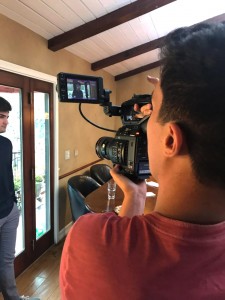 "I'm older, so I'm happy that it got approved while I'm still around to teach a couple semesters in it," Grannis said.
Back in 1998, Grannis said he wrote a letter to the vice president of the university at the time proposing a film program. Grannis said that since they were so new to the program, it was not realistic at the time.
University of California, Los Angeles film school graduate Grannis said he presented the program proposal once again in February. The program was approved unanimously, he said. While this is a big accomplishment for Grannis, he acknowledged that there is still a long way to go.
"Although it was a sense of relief, it also isn't over yet…but of course I'm happy," Grannis said.
To prepare for the newly approved program, the communication department must hire staff, get accreditation from the Western Association of Schools and Colleges, write course descriptions, create a web page, organize the course schedule and reserve rooms. Grannis said he will be the program director for the film major.
The emphasis in film and television in the communication department is still going to be offered once the new film major is underway.
Grannis said there has also been student demand for an individual film program.
"It's about time," said senior film and television emphasis Charlie Biegalski. "Film has always been an underrepresented, underrated major here, where people don't realize how much work we do, or how much is involved in it, so to finally be acknowledged by the university [is great]." 
The new film major consists of three emphases: general, production or film studies. The program is interdisciplinary, meaning students will be required to take courses already offered in the communication, languages and cultures, music, English, theatre arts and multimedia departments.
In addition to classes such as intro to film studies and post-production and distribution, film students will take research methods, capstone classes and complete an internship. According to the communication department website, Cal Lutheran students have interned for media companies like ABC, Disney, CBS and more.
"The key word is finally. This should have been here a long time ago—I mean how close we are to Los Angeles to make those connections and everything? Thank God it started," said senior film and television emphasis Kalene Chase.
Those in the film emphasis this year are currently producing several student-made films. With the new program, students will be able to make TV shows, as well.
Senior film and television emphasis Matthew Trujillo said he is "excited to see where Cal Lutheran goes with it."
Grannis said the university is in the middle of the faculty-hiring process and "just wrapped up interviews." The candidate will be selected the week of March 11, and then the candidate will teach alongside Grannis in the fall.
"Professor Grannis does make up the majority of the TV/Film emphasis at this point, because several of the adjuncts are no longer with us," said Biegalski, who produced an award-winning film that came out in 2018.
Chase, Trujillo and Biegalski are all graduating in May and will not be able to experience the new program. Nonetheless, they each expressed their excitement for students who are looking at Cal Lutheran because it will expand the alumni network, provide more opportunities for internships and industry connections, and appeal to a more diverse selection of incoming students.
Grannis worked with Biegalski to write a proposal to gain funding for an educational convention in Las Vegas called National Association of Broadcasters.
"We could literally write an ode to Grannis because he does a lot and does not get enough credit," Biegalski said.
Sophie Zepf
Reporter
Editor's Note: This article was updated on March 20, 2019 to reflect that the multimedia program is also contributing to the interdisciplinary film major.