Upcoming Musical 'The Pirate Queen' Spotlights Female Stars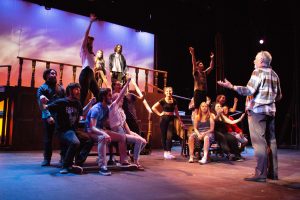 Strong female roles in performing arts are hard to come by. But in recent years, studios and producers are realizing the need for leading ladies. Movies such as "Captain Marvel" and "Wonder Woman" have dominated box offices while introducing a new type of hero.
California Lutheran University has many female leaders on campus, from faculty and administration to student government. This semester, the Theatre and Dance Department wanted to put on a production that reflected these strong females on campus and those rising in our culture.
The Theatre and Dance Department has been working collaboratively with the Music Department to put on the musical production "The Pirate Queen" since they obtained the rights for the script in September 2018.
This musical is based on the true story of the rivalry between Ireland and England in the 16th century. The play opens in the year 1559 and curtains close in 1593. The plot follows the main character Grace O'Malley, played by junior Bridget De Maria, who is an Irish pirate. She faces opposition from Queen Elizabeth I, played by sophomore Anna Demaria, no relation to Bridget.
"The message of this show is about two really strong women who were not respected during their time," said Michael Arndt, chair of the Theatre and Dance Department and the show's  stage director. "Both of those strong women, who were very real life characters waiting for their time, they were important within that. That was also important to me to make sort of a statement about the continuing problem of women not being respected."
De Maria said she enjoys playing the "star vehicle" in this production, especially since Grace O'Malley is a historical figure who defied stereotypical gender roles.
"She doesn't try to be a strong woman by being a man," De Maria said. "She is being herself, and that is a strong woman."
This idea of prevalent female power is something Arndt was drawn to when reading the script.
He found that with the #MeToo movement and the rise of female empowerment in the past couple years, this play is important.
Arndt said he was also extremely interested in the difficult songs, dance sections and extravagant set pieces that came with this musical, as well as the time period it takes place in.
"Musically, it's very chall-enging because it approaches almost an opera," Arndt said. "[De Maria] who plays the pirate queen is really on stage most of the play, and she's singing most of the play and it's a two and a half hour play. So it's really demanding."
Arndt said he likes to choose productions that students are not very familiar with, and would not have been in before.
This musical production is so large that the Preus-Brandt Forum on campus was simply not big enough. The Theatre and Dance Department instead rented out the Thousand Oaks Civic Arts Plaza for $30,000 for the four showings from April 11-14.
The unfamiliar stage was another challenge for the cast. Because of this, the cast has been  preparing since last fall. Since October, the cast has rehearsed five to six hours, four days a week.
The cast consists of 29 students from all different grades and background experience. There are also at least 20 student workers and seven faculty members on campus working on this production. This does not include outside help hired for lighting, props, combat choreography or dance choreography.
Demaria said working with such a large cast allows "different majors, backgrounds and ages" to come together to tell one story. She finds this inspiring due to the importance of the story.
"I absolutely love playing [Queen Elizabeth]…I like to think she's one of the most powerful women in history just because she was a big leader with a very positive power," Demaria said.
De Maria said she is nervous for the show, as things can go wrong. But she is trying to focus on the key part of this production: her character's story.
"I can only tell my story…if all else fails, I can tell the story of Grace O'Malley," De Maria said. "If there's like a chair that doesn't come on stage, I will still be telling the story. People will still understand what's happening if that's like, one thing that doesn't happen. So it's just focusing on that and having fun. That's the point of the show."
Because the show will be hosted at the Civic Arts Plaza, tickets are not free for students. Arndt said student government is offering 96 free tickets to students on a first come, first serve basis. These tickets will be available to students on April 9  and 11 from 1-4 p.m. in front of the Blackbox Theatre. Discounted student tickets are available on the theatre website or available to purchase on the Spine April 9.
Lindsey Potter
Reporter