Kingsmen Obasi Dees Competes in 2020 Hula Bowl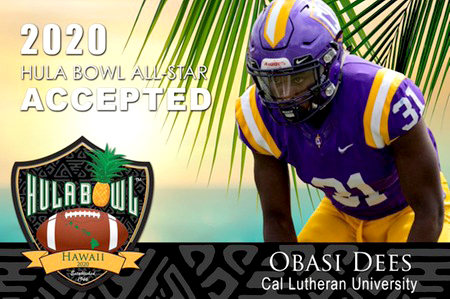 Obasi Dees, senior defensive back on the Kingsmen football team had the final game of his collegiate career in the 2020 Hula Bowl on Jan. 26 in Honolulu, Hawaii.
"Being at the game was surreal, kind of like a dream come true," Dees said.
In late November, as the Southern California Intercollegiate Athletic Conference season was coming to an end, Dees got the news that he had been offered an invitation to play at the Hula Bowl.
The Hula Bowl, which started in 1946, is an all-star game comprised of 100 collegiate football players from National Collegiate Athletic Association Division I, II, III, National Association of Intercollegiate Athletics, and international institutions. The players invited to the Hula Bowl receive the opportunity to play at the Aloha Stadium at the University of Hawaii in front of National Football League, Canadian Football League and XFL scouts.
Scott Beattie, defensive coordinator for the Kingsmen football team, was contacted by Nick Logan, the recruiter for the Hula Bowl. Logan is also a Cal Lutheran football alumnus, where he played as an offensive lineman and Beattie's teammate. Logan reached out to Beattie and asked if there were any players he deemed worthy to participate in the bowl. Dees was the first to come to Beattie's mind.
"I sent him some video and some biographical information, and I kid you not, within about twenty minutes, he called back and said we want to invite him," Beattie said.
Dees arrived in Hawaii on Tuesday, Jan. 21, where he met his coach, team and other invited players. Leading up to the game, there were days of "really intense" practice and training sessions, Dees said.
Beattie, who attended the Hula Bowl, said, "[Obasi] practiced well all week, he was really enjoying himself. He was solid from the start, but as he gained more confidence as the week went on, he got better and better. He got a lot of compliments during practices."
Outside of practice, Dees and the other players were able to see sites such as Pearl Harbor, the Polynesian Cultural Center, and join in the Haka, a ceremonial dance in Maori culture, prior to the start of the game.
"I thought I was going to be a lot more nervous, but for some reason I wasn't really nervous. I was more so confident," Dees said.
The players in the Hula Bowl were split into two teams, Kai and Aina. Dees played defense for team Aina. In the end, team Kai ended with the victory with a score of 23-7. However, Dees was still able to make the most of his experience, despite playing with and against a variety of players, including those from Division I institutions.
"Playing against players from DI and bigger name schools gave me a sense of belonging, it made me feel that coming from Cal Lu, I'm here for a reason from how hard I worked and what God blessed me with," Dees said.
"He represented himself and the school really well. I'm proud of him, he did really well, it was a good deal," Beattie said.
Dees doesn't count on his football career ending anytime soon. In the upcoming months, he plans on having his pro day here at Cal Lutheran, or a nearby university, where NFL scouts will come. From there, he plans on attending rookie camps, full camps and to make the roster for an NFL team.
Dees credits his success to God, his football coaches, strength coaches and his parents.
"My parents were the ones who told me to keep pushing, and there are always more goals to be accomplished, so don't be comfortable where you're at," Dees said.