Words of wisdom hit home for CLU freshmen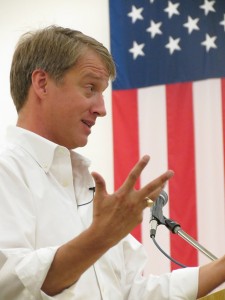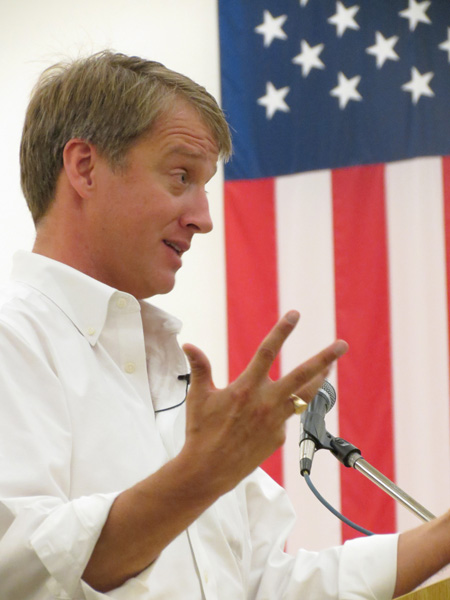 CLU welcomed author Rodes Fishburne to campus last Thursday to discuss his novel "Going to See the Elephant" which was required reading for this year's incoming freshmen.
Every year as a California Lutheran University tradition, freshmen are required to read a certain book in their freshman seminar class before they begin their academic year.
The purpose is to help students transition to a college environment academically.
Fishburne's book "Going to See the Elephant" is a story about a man who came to San Francisco in hopes of achieving literary fame.
Fishburne spoke at CLU on Sept. 27 in the Gilbert Arena.  The event was held from 7:30 to 9:30 p.m.
Questions and book signings after his presentation were also permitted.
Students and staff sat attentively on the bleachers while listening to Fishburne speak. Laughs could be heard coming from the crowd.
The event was focused on Fishburne, the ideas behind his novel and his feelings while writing it.
Instead of stating facts, Fishburne kept the audience engaged by maintaining charisma and emotion while at the podium.
"It was refreshing to have a guest speaker at school who did not bore me. I really enjoyed his ability to engage with the audience," said freshman Kelsey Kuroda.
After Fishburne's discussion many students lined up in front of the podium to ask him questions in front of the audience, though there was not enough time to answer all of them.
"These have been some of the best questions I've received from a school," said Fishburne.  "Everyone here made me feel so welcome."
Following the students' questions, Fishburne signed books for the freshmen that had their copies in hand.
Numerous freshmen lined up behind the desk eagerly waiting to get a signature.
"He was really personable with me when I asked him to sign my book.  I really admired that, considering he had signed so many books prior to mine," said freshman Justin Langstaff.
"Going to See the Elephant" is essentially about setting one's goals and achieving them.
The issues dealt with in the book are relatable to students in their first year of college.
The book centers on the main character who realizes that what he has planned for may not be in his best interest.
He is forced to look into other options and embark on a journey to figure out his life passion.
"I really enjoyed reading this book and I love the way it ended. It inspires me to set goals and try to complete them," said freshman Ryan Perez.  "I think he did an excellent job of capturing the reader.  I was engaged the entire time."
"Going to See the Elephant" is Fishburne's first novel. It made Amazon.com's list of best novels in January of 2009.
It has also made the Indie Next List, and was praised by writer Tom Wolfe.
Although "Going to See the Elephant" is Fishburne's first novel, he is not new to writing.
Fishburne has served as a writer for more than 10 years for magazines such as The New Yorker, The New York Times and the San Francisco Chronicle Magazine.
He has also served as the editor of the Forbes "Big Issue," representing writings by Bill Gates and the Dalai Lama.
"Going to See the Elephant" can be purchased at Amazon.com, BarnesAndNoble.com and at the CLU bookstore through the end of the month.
Lizzie Lopez
Staff Writer
Published On Oct. 3, 2012