Panelists explain why Aunt Jemima retired
On Nov. 5, Rachel Schmid, curator of collections and exhibitions at William Rolland Art Center, hosted a panel via Zoom to discuss Black caricature and Quaker Oats' decision to retire the Aunt Jemima name and image on some of their products.
The panelists included Taylor Bythewood-Porter, assistant history curator at California African American Museum, David Pilgrim, professor, orator and human rights activist and artist Chris Christion. All of the panelists have a background in educating the public about caricatures that have continued to hurt Black Americans since segregation and Jim Crow.
In a New York Times article, Quaker said removing Aunt Jemima will "make progress toward racial equality." However, these changes likely will not hit the shelves until the end of the year.
Pilgrim, the vice president for diversity and inclusion at Ferris State University and founder and curator of Jim Crow Museum of Racist Memorabilia, said "these [caricatures] were used as a kind of propaganda and they both shaped and reflected attitudes for African Americans."
Pilgrim said the caricatures gave the impression that African American women were warm, tender, happy, and friendly–despite the circumstances they faced.
When he shows them these images to museum-goers, he said he will simply ask "what is it that you see?" And he said he has heard a wide range of answers ranging from nostalgia to reminders of slavery and segregation.
"During the 1910s into the 1920s, there's this romanticizing of [Mammy] who loved us and through her love she demonstrated that we were good. Through her love, she demonstrated that we were fair. Through her love, she demonstrated that white supremacy was ok," Pilgrim said.
During the discussion, Bythewood-Porter shared her presentation about "Making Mammy: A Caricature of Black Womanhood" from the California African American Museum.
"[This] image not only embellishes the reality of Black life in the American South, it also really denies African American women their femininity, beauty, family and communal ties," Bythewood-Porter said.
An article about the "mammy" caricature from Ferris State University states that "Mammy is the most well known and enduring racial caricature of African American women […] The mammy image served the political, social, and economic interests of mainstream white America […It] was posited as proof that blacks–in this case, black women–were contented, even happy, as slaves. Her wide grin, hearty laugher, and loyal servitude were offered as evidence of the supposed humanity of the institution of slavery."
Christion, a visiting lecturer at the University of California, Berkeley, followed up by discussing a series of artwork he created using a collection of Black collectables and caricatures from his home. He conveyed the "racial rejections [he dealt] with" via abstract paintings.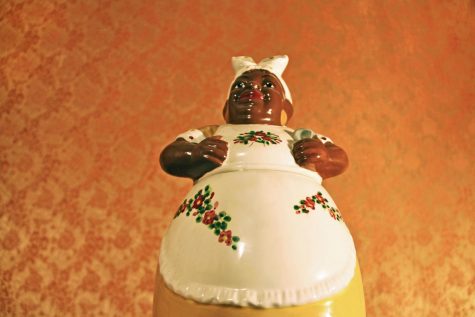 "What really stuck with me in terms of kind of exploring these images were what were these caricatures […] these figures, what they were projecting and putting across and being marketed as," Christion said.
In a phone interview, Schmid said the panel was inspired by Quaker's decision to retire the name and image of Aunt Jemima which "became very politicized" amidst the peaking Black Lives Matter movement and racial tension in 2020.
"People were really nostalgic for the brand or people were really against it because of the negative stereotypes that it created with the name and the image," she said.
The retirement of Aunt Jemima, she said, was also the perfect opportunity to have a conversation about caricatures, particularly of Black people.
Schmid also said she understood how the timing of Aunt Jemima's retirement might be perceived as convenient for the company, based on the social and political climate. However, she said others believe these racist images need to be eliminated and can no longer "use racism as a way to sell products."
"Because of the moment, it's going to be interesting to see because I think that if this had happened a few years ago or maybe a few years in the future, I don't think anyone would be talking about it. I think it would just be 'oh we decided to go with a different name, logo and image,'" she said.
At the end of the panel, Schmid reminded attendees that there is a free, on-demand film screening of Black Memorabilia (2019) by Chico Colvard. Click here to read more about the film and get a free access code to watch.