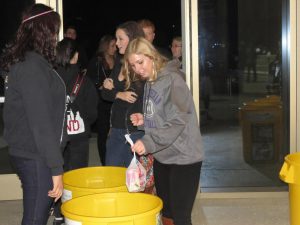 CLU raised $394 and more than 350 pounds of canned food during the Fall Food Drive at the Kingsmen football game on Saturday.
The food drive was organized by the Community Service Center.
Students, parents, alumni and some La Verne fans brought cans and money to donate.  All of the proceeds from the drive went to FOOD Share, a food bank based in Oxnard that serves all of Ventura County.
"It felt great to donate some canned food that we have at home and know it's going to be used for those who need it more than we do," said senior Dejan Novakovic.
As fans walked through the two lines to enter William Rolland Stadium, they either dropped off their cans or donated money and received a free CLU shirt.
At the end of the food drive, four of the 10 yellow donation bins were full, but the money that people donated surpassed the center's expectations.
"The proceeds go to disadvantaged people," said junior Wayne Swinson. "People in shelters, homeless, kids that don't have a public food program."
CSC has been involved with Food Share for years and when an opportunity came to hold another drive the center decided to act.
Swinson contacted companies like Trader Joe's, Qdoba and Bucca di Beppo that all got behind the project and helped promote it at their stores.
Student Life, ASCLUG and CLU's sports marketing department helped market the event on campus. Swinson also contacted Lindsay Bowden, an intern for the sports marketing department.
"I coordinated the glow necklace giveaway in conjunction with the CSC's event as well as the black out theme," said Bowden. "I have been planning giveaway events for all the teams on campus. I am very proud of how smoothly the event went and of the great turn out."
CSC's upcoming events include Senior Buddies on Nov. 14 when students can spend the day at University Village with the seniors. Fair Trade Day will take place on  Nov. 30, teaching students about what fair trade really is and how they can become informed consumers.
Britney Zamora
Staff Writer
Published Nov. 7, 2012