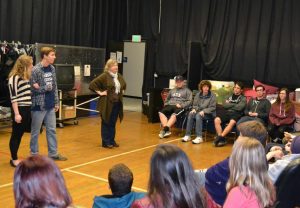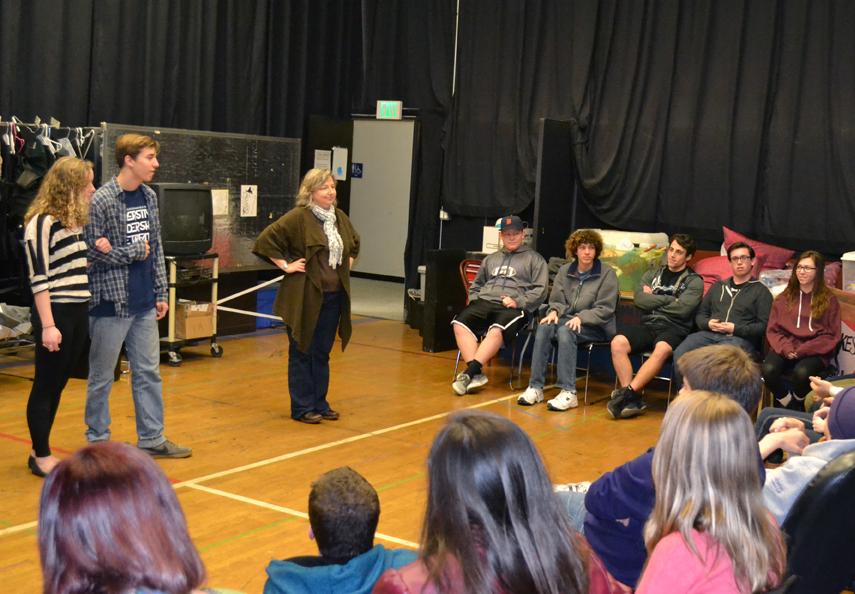 Ask anyone who does improv, and they'll tell you that it's a good way to unwind, that they want to make people laugh, or that they like the attention performing brings.
But there exists, for some, an emotional depth and a personal connection to performing improv that transcends making things up to ellicit a reaction from an audience, and instead becomes a form of expression and growth that is unlike anything else.
For Lisa Fredrickson, it's all of the above. By day, she is a working actor with a laundry list of credits to her name – which currently includes "Jane Austin Unscripted" at the Impro Theatre – and a colorful menagerie of experiences to accompany them. In the evenings, she can be found mentoring people in mental health facilities, theater actors and students at CLU as an improvisation professor.
Originally from Seattle, Fredrickson moved to New York to pursue acting, but like many artists, strayed for some time from that goal. She bided her time and made a living by selling building materials, but after a decade she  decided it was time to reevaluate.
"[I] realized [acting] is what I love. I forgot to do what I love," said Fredrickson.
She moved back to Seattle and dedicated the next few years to acting, discovering improv along the way. Not long after, Fredrickson quit her job and dedicated her time to performing with an improv company full time.
"I found out that improv was all about saying yes and loving each other, and helping each other and serving each other," says Fredrickson.
Even with the whirlwind of activity and opportunity that performing as an actor and an improviser has brought to her life, Fredrickson insists it's teaching improv that offers one of the biggest rewards of all. It is those values of loving and helping one another that Fredrickson brings into the classroom, where she encourages and inspires her students not only in their scenes, but in their lives as well.
Senior Rafe Padilla has been involved with the campus improv troupe, which Fredrickson oversees, for two years. Padilla said working with Fredrickson has taught him to take the lessons he's learned in class and apply them elsewhere.
"I… used to be weird just for the sake of being weird, because I thought it was a part of being in improv, but I learned it's much more than that. It's more about being true to your own character and being able to give to other people as well," said Padilla.
The troupe performs free shows at 11 p.m. on alternating Thursday evenings in the Forum, where they are met with a packed and eager audience full of classmates and friends waiting to watch them perform.
According to Fredrickson, what she loves is not just the performances the troupe gives, but the way those performances impact the students.
"You leave the show, and you're totally in… a positive frame of mind. So you spread that out to whoever you're hanging out with, and it just keeps spreading and spreading… It's just such a positive force," said Fredrickson.
Padilla feels that it's this kind of impact that has empowered him, and he has certainly become a performer that students want to see. He says that since he began taking improv with Fredrickson, he's learned to stop setting himself back in life.
"I had taken the last two years' worth of improv classes with her and I remember at the end of my very first show, she came up to me, and she said, 'I am so happy that you're on this troupe.' It meant a lot to me to hear that from her, and to think I was actually good enough to be around her and the troupe," said Padilla.
Sophomore Kevin Schultz has taken improv three times.  He believes that what he gets out of Fredrickson's direction outweighs any apprehensions he might have about letting go in front of other people.
"I was nervous about it, but when I got there it turned out that everyone was just really supportive of each other no matter what. Lisa really encourages that, to point out the good in every scene," said Shultz.
That's why Fredrickson loves what she does, because, according to her, improv shows people that that they are braver and more amazing than they believe they are.
"All the stuff that makes improv work is really the secret little black book to how life works, and how life can be awesome," said Fredrickson.
Christa Price
Staff Writer
Published Feb. 13, 2013