Inexperience rears its ugly head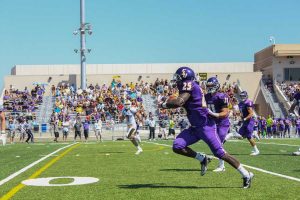 No. 18 California Lutheran Kingsmen hosted the No. 12 Pacific Lutheran Lutes in their season opener at William Rolland Stadium this past Saturday afternoon.
The first football game of the season ended after CLU was unable to get a play off after PLU recorded their 7th sack of the game.PLU won with a final score of 31-24.
The game was tightly contested throughout. After the Kingsmen took the lead 7-0 on the first drive of the game, a stellar four touchdown performance from PLU  quarterback Dalton Ritchey kept CLU from getting the lead back. The Kingsmen remained within striking distance throughout the game thanks to forced turnovers, but couldn't stop the Lutes from scoring down the stretch.
The Kingsmen were able to force three turnovers, but turned it over twice, as well. Both turnovers came at crucial points in the game, specifically an interception inside the PLU 10 yard line.
Eric Rogers, former wide receiver for the CLU football team, was at the game, and said that the issue was capitalizing on those turnovers.
"PLU was able to capitalize on our turnovers, but we couldn't capitalize on theirs," said Rogers. "There were a couple times where we forced turnovers, then gave it right back. That can't happen."
Ritchey threw for 198 yards and two touchdowns, while completing 13 of his 26 attempts. Ritchey was the star of Saturday's game, rushing for 87 yards as well as two touchdowns. CLU Head Coach Ben McEnroe credited PLU's experience for their offensive display.
"What you saw with PLU is a team that has played together for two, three or four years," said McEnroe. "You could see that they had the confidence of a veteran team, while our inexperience at certain positions really showed."
CLU quarterback Cameron Deen threw for 135 yards and one touchdown while completing 14 of his 23 pass attempts. Deen, a senior transfer from Middle Tennessee State, is playing for the Kingsmen for the first time this season.
Justin Bloom, CLU sophomore wide receiver who led the Kingsmen with three catches said the transition to Deen has been easy.
"The transition to Cam has been very smooth," Bloom said. "The reps the wide receivers got with him throughout camp and spring ball has made it easy on us."
The Kingsmen shined on the ground against the Lutes. Senior transfer running back Wayne Chapman ran for 143 yards on only 14 carries. Fellow senior running back Ryan Zirbel rushed for 67 yards and two touchdowns. McEnroe mentioned the rushing game as a huge positive from Saturday's game.
"Our running game was outstanding," said McEnroe. "That got us back into the game and gave us a chance to win. We just busted at inopportune times. You aren't allowed rookie mistakes against elite opponents."
According to McEnroe, 15 of 22 CLU starters were playing their first college football game at the four-year level against PLU.
"This is a very tight-knit group that care for each other deeply," said McEnroe. "What's missing is experience and reps together that can only be gained by playing together more. The challenge is we have to grow up against two of the best teams in the nation this season."
The Kingsmen will take on No. 3 Linfield in Oregon on Saturday, Sept. 21 at 12:30 p.m.
Keith Sparks
Staff Writer
Published Sept. 18, 2013