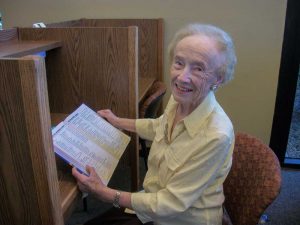 It's the first day of a new school year at California Lutheran University, and all the students in James Bond's, who has a doctorate degree in English, Early American Literature class are speaking excitedly to their neighbors.
As 89-year-old Delna Jacobs walks into class, some conversations stop as curious students look and wonder why this woman is in their English class. But, Jacobs mostly goes unnoticed as she sits down in the front row and waits for the professor to start lecturing.
Although Jacobs is just beginning her college career, she has always understood the importance of a good education.
"My whole family is educated, and now it's my turn. That would be my mantra right now, that it's my turn to absorb some knowledge," said Jacobs.
Jacobs decided to focus on her education after The Reserve of Thousand Oaks, a senior living center where she currently resides, began offering its residents a chance to be a part of a senior citizen auditing program. This is her second year in the program and when asked about her college experience, Jacobs couldn't help but smile.
"Oh, I love it. I love it," said Jacobs. "I wish I were younger and could take classes for credit."
According to Associate Registrar Lorraine Purmort, the senior citizen auditing program has been around for awhile. Many of the seniors in the program are interested in history, English and music classes.
"We have always had seniors sitting in class one way or the other," said Purmort.
Bond has had senior citizens in his previous classes.
"I always enjoy having senior citizens in my classes because they can serve as a model for all students, and for me, for what it means to be a life-long learner," said Bond.
As for the students, sophomore Isabella Trangelo recalls her first thought of seeing Ms. Jacobs.
"Honestly, I thought there was a chance she might be our professor, but then I remembered Dr. Bond was a man. When she sat down amongst the students I thought, well this is different. It should be very interesting. I look forward to her insight," said Trangelo.
Despite only having graduated high school, Jacobs has led a successful life. She worked as a secretary and later as an administrative assistant at the University of California, Los Angeles for 20 years before she retired. Jacobs worked in the chemistry department under Dr. Mostafa El-Sayed where she was able to meet Nobel Prize winning chemists.
Before Jacobs was working at UCLA, she spent her life caring for her family. She was married to her husband, Larry Jacobs, for 55 years, and still recalls how they met at a bowling alley through friends in Los Angeles.
Jacobs takes pride in the fact that she raised well-educated children. Her daughter, Christina Jacobs-Spitz is a lawyer and her son, Robert Jacobs, recently retired as a captain of the Navy.
Jacobs' family is also excited for her and for this educational opportunity.
"They're all supportive. They are amazed, astonished and happy for me. They're excited about grandma going to school," said Jacobs.
Jacobs is not only here to learn, but also hopes students can learn from her.
"Grab every opportunity you have," said Jacobs. "Don't close doors. Keep doors open, and keep moving forward. Don't let any doors close in your face. There might be something behind that door that will benefit you in life."
Alesandria Posada
Staff Writer
Published