CLU Professor Erwin becomes bishop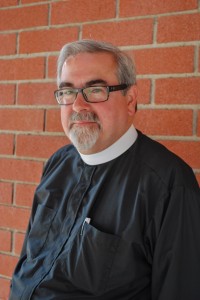 Guy Erwin, former religion professor at California Lutheran University, will be installed as the fourth bishop of the Southwest California Synod of the Evangelical Lutheran Church in America on Sept. 21.
"I hope to be able to help the people in my area, my synod and experience the love of god and I hope to be able to inspire young people to the lines of service," said Erwin.
Erwin, who has a doctorate degree in history of Christianity, said he had always been interested in becoming a clergyman, but could not pursue this due to the policies at the time.
"Being a clergyman was not an option for me when I was in graduate school because the church I belonged to didn't ordain gay people at that point, so I had to wait until the policies changed," said Erwin. "I never imagined I'd be a bishop; it was never something I expected to be able to be. In fact, up until the time I was selected it was a surprise to me."
During the election of the new bishop for the Southwest synod, CLU was not only represented by Erwin, but also by campus pastor, Scott Maxwell-Doherty, who was among the three finalists to be elected bishop. The third finalist was Rev. Al Starr, who is from Chicago.
"I know Guy to be highly articulate about the current state of the church and I know him to be both ambitious and aspirational about where the church needs to go, and he has the capacity to language it in a way that people understand," said Maxwell-Doherty.
According to Maxwell-Doherty, Lutherans have always been open to change, so the election of an openly gay clergyman as bishop does not come as a huge surprise to him. He added that at this point, Lutherans are just playing "catch up" and staying true to the idea that they welcome all.
"Lutherans hold dearly the idea of reformation or reforming and they hold on to that idea that because of a theological connection announced in the following way, 'God is always making things new,'" said Maxwell-Doherty. "Guy's election to the role of bishop is another indicator of the ways in which God is about the business of making things new and thus reforming the church."
Senior Chris Wolf was in Erwin's Medieval and Reformed Christianity class and says he will miss seeing Erwin around campus.
"I know that Dr. Erwin has been dreaming to some extent of that for a long time, but it wasn't possible," said Wolf. "The fact that he was working towards it the entire time, even though it may not have been an achievable goal at the time, shows what determination can do for you."
Wolf, who grew up Lutheran, but now identifies as an Agnostic, says it's refreshing to see the changes in the church.
"I think it is going to open the door to a lot more of these types of minister and clergy," said Wolf. "I think they're just going to feel more comfortable about either coming out as gay, or at least in expressing a passionate interest in what they really want to do."
Students, staff and community members are invited to attend Erwin's installation as bishop, which will take place on Sept. 21 at 10 a.m. in Kingsmen Park. For more information, contact the campus pastors at (805) 493-3228.
Mayra Ruiz
Staff Writer
Published Sept. 18, 2013