Clubs recruit new members at Involvement Fair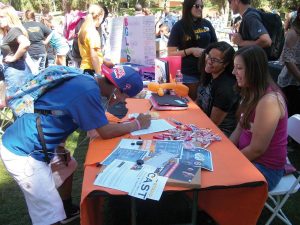 From the ACLUpella Club to the Video Game Alliance, there' are many opportunities for students to meet others who share similar interests on the California Lutheran University campus.
The involvement fair on Sept. 17 allowed students to explore different clubs by visiting booths. Each booth had club representatives that reached out to other students walking by.
"For my peer students, it was mandatory to attend the involvement fair and visit five booths. I think it's a great way to meet new people and possibly discover a new hobby," junior peer advisor, Ashley Marten said.
Several booths were displayed in Kingsmen Park where students could stop by a booth, ask questions, and move on to the next booth.
"Student clubs and organizations largely benefit the student body as they provide an avenue through which to engage outside of the classroom, explore new areas of interest, and a method through which to build relationships. It is interesting to consider that clubs can be academic and social," Coordinator for Transitional and Leadership Development Programs Jaime Brunell said.
One of the represented clubs, the Muslim Student Association, wants students to explore new areas of interest and build relationships. Created last year, MSA, is determined to inspire open dialogue on religion while informing students of the Muslim religion.
"It's a club open to all students on campus as a way for open dialogue and your own interpretation of Islam. It's good for Muslim students to join to have that conversation about their faith and what it means to be Muslim on campus. It offers a perspective to Islam beside a religion class," MSA founder, senior Shireen Ismail said. "It's a great place to learn about your peers as Muslim Americans and Muslim international students."
There is also an opportunity for students to create their own club. An online application is available on CLU's website. A draft of a constitution needs to be submitted along with a budget. Each club also needs an on-campus advisor. After these steps, the application needs approval by Student Life and final approval by the ASCLUG senate. Once approved, the group will be  a recognized club by the university and will be featured on the Clubs and Organizations website.
With all the clubs on campus, students can find one to join in order to explore a current or even a new interest.
Berlin Galvan
Staff Writer
Published Sept. 25, 2013