Last second goal saves Kingsmen from defeat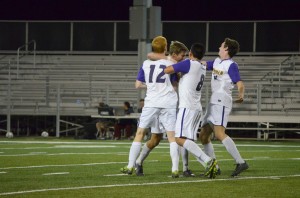 With five minutes left in the game, Voja Maric, forward for the Pomona-Pitzer soccer team, turned to the crowd and made a 1-0 hand signal, reminding everyone that his team was winning. But Maric's joy was short lived because with just 11 seconds left in the game, sophomore defender Alex Wardle scored a goal for the Kingsmen, tying the game 1-1.
The California Lutheran University Kingsmen played the Sagehens to a 1-1 double overtime draw during a SCIAC game on Saturday, Oct. 5.
The Kingsmen were hoping to pull out a win against Pomona-Pitzer, after losing to Whitter in their previous match. Their loss to Whitter snapped an eight game loss-less streak.
Although the Kingsmen were unable to beat Pomona, the team was happy about the end result.
"Overall it was a hard-fought game," said Nick Baldi, sophomore forward. "We came back from 1-0."
The game, which started off slow, began to build up pace and the energy of the players became more and more evident as both teams increased their shots on goal. Pomona-Pitzer made the first goal of the night at the 39-minute mark. With just four minutes left of the first half of the game, CLU was still scoreless.
For a majority of the second half of the game, the Kingsmen mainly played defense as Pomona-Pitzer made various attempts to double their lead. The game began to heat up as sophomore defender Tal Zaiet had his shirt ripped by a Sagehen player. Zaiet did not let the incident faze him and continued to play.
A sense of defeat swept over the crowd until Wardle managed to score with just 11 seconds left in the game.
Pomona-Pitzer had answers for every CLU attack as they blocked all of the Kingsmen's shot attempts at a second goal throughout both overtimes. It was during these two periods that the Kingsmen played their best and their camaraderie remained strong.
"Our main idea is always to get a result, especially at home," said Tyler Pascoe, junior midfielder. "If we would have played the way we played in overtime the whole game, I think it would have been a way different result in our favor."
Ivan Sanchez, senior midfielder, said the team will continue to work hard throughout the season. Sanchez said that he hopes the team will continue to play as strongly as they did during the end of the game as it was when they connected the best.
"[Ending in a tie] kind of sucks, but it's a good thing because we are getting points," Sanchez said. "We're always trying to go for that win, never a loss."
As of Oct. 7 the team's record of 7-2-2 and 5-1-2 in SCIAC put them in third place. Its next game will be at home against Occidental on Oct. 9 at 7 p.m.
Mayra Ruiz
Staff Writer
Published Oct. 9, 2013